The original post can be found here.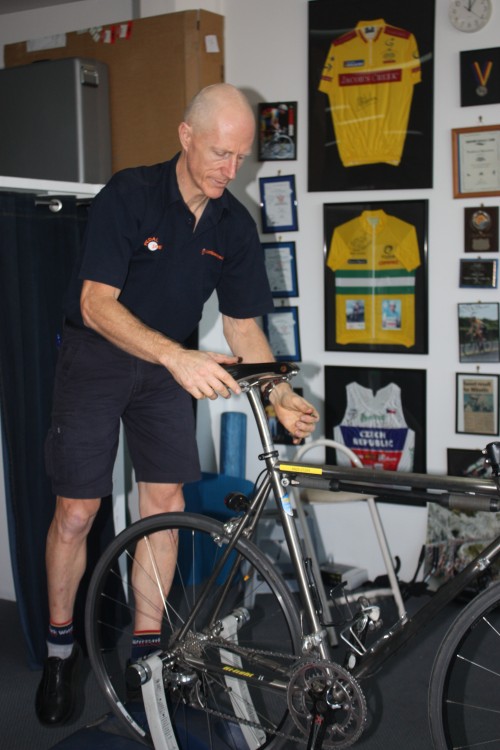 One of our readers, Bill left a comment asking for footage of the prime visual cue for over extension of the legs. In other words, how to tell when the seat height is only a little too high. I have plenty of footage, but uploading to here means that the footage loses quite a bit of resolution. So footage that subtly showed what I wanted to illustrate was much too subtle because of lower resolution. Hopefully the two views below are obvious without being way too obvious.

Click play and I'll explain below. In both film clips the gent is under reasonable load. In this case, big chainring at 80 rpm but not so big a gear as to sacrifice technique just to turn the pedals.

The first thing to note is that this gent is what I call a toe dipper; that is he pedals with a marked toe down technique. This is not rare but is relatively uncommon in males. More about that below. Focus on the back of the knee. With an ideal seat height, the velocity of the extension of the knee should be a constant. Here, if you look carefully (and the relatively low resolution doesn't help) you will see a small acceleration in the extension of the knee just before the bottom of the pedal stroke. If you are not used to looking for this it may take multiple views before you see what I mean. That acceleration in extension of the knee means that the rider is losing control of the movement because his seat is too high.

Now let's look at the left side.

Two things stand out. Firstly, on the left side the toe is pointed more than on the right side. Secondly, the acceleration in extension at the back of the knee is more obvious than on the right side. Why?

There are multiple potential answers. Regular readers will remember that I am often saying that any challenge to a riders' position will evoke an asymmetric compensatory response. This gent's response to too high a seat height was to drop his right hip on every right side pedal down stroke. That partly helped the favoured (in this case) right side but the poor old left side was 'sacrificed' because the right side hip drop and consequent pelvic shift that allowed it, didn't rebound all the way back to centre. Meaning the left leg had to reach further than the right leg. There was no other choice on the left side but to point the toe more and overextend to a greater extent than on the other side. See below for the most important view, the rear one.

One more word about our subject above. There is a lot wrong with his position which this footage only partly shows because the aim when filming was to highlight his too high a seat height. When fitting someone I have no set order of changes. I usually tackle the most obvious problems first and gradually proceed to the less obvious or less important with constant checking and reassessment along the way. I initally dropped our friend above's seat by 15mm. As the fit progressed with changes to cleat position, foot correction, seat setback and so on, he began to drop his heel more naturally, Dropping the heel causes more extension of the knee than pointing the toe so our subject eventually ended up with a 28mm lower seat height  than when we started.  3.5 hours after we began he displayed  what I call "Joe Average" pedaling technique. That is, unexceptional.

So what I'm saying is that in this case at least, the uncommon but not unknown amongst males, toe dipping pedaling style was brought on by WAY too high a seat height and was itself an attempt at compensating and was not a technique that was natural for him. Sadly, that seat height was the result of a 'professional' bike fit.

Seat height is such a simple thing that I don't think enough attention is paid to it within the bike fitting 'industry'. The consequences of too high a seat can in many cases be severe. Go to this post and scroll down to the Comments at the bottom until you see the one from Anke. Anke came to see me after changing her seat on and having a bike fitter set the position for her 3 months prior to walking in our door. After a long ride a few weeks post seat change, she developed chronic low back pain on and off the bike. At the time I saw her she was in constant pain that no treatment she had been given by manual health professionals had been able to relieve more than temporarily. Her physio and chiro suggested a low back MRI which Anke had had done just before I saw her, though at that time she did not yet know the results.

I made a lot of smallish changes to her position with  the major change being a drop in seat height of 12mm. Anke didn't think this was a lot, though I did. At the end of the session we hammered Anke on the trainer for 15 mins at a variety of resistance levels and gradients and she was fine, in that she experienced no back pain. That is until she got off the bike.

A few days later she got the results of the MRI;  substantial damage with disc bulges pressing on major nerves and has since had spinal surgery as you will read. I am using Anke's unfortunate experience to highlight just how IMPORTANT seat height is and how SEVERE the consequences can be if it is too high. If you have ANY doubt about your seat height; a few mm too low is a far lesser evil than a few mm too high.

Lastly; my fit customers can be divided into 2 categories. Those who have previously been fitted somewhere or other and those that haven't. The great majority of each category are sitting too high when I see them for the first time. Not all, but certainly a large majority.

Seat height is often not accorded the importance it deserves because it isn't esoteric enough or techo enough and doesn't come in carbon fibre or exotic materials. Seat height is a big deal, particularly if it is too high for too long.

COMFORT + EFFICIENCY = PERFORMANCE

Note: Often, more specific answers to your questions can be found in the Comments below or in the eBooks section and FAQ page.

To learn more about bike fit products offered by Steve, click here.


Do you have a bike fit success story? Please go here to share.

Thank you for reading, return to the Blog page here or please comment below.

Comments are closed for most posts not part of the subscription blog. If you have a question or comment, Prime members can use the Prime Q&A.