An addendum to this post is available here.
I was asked a while back for a post about pedals.  To cut to the chase; rather than write a critique of available pedal systems, it is easier to recommend the best and explain why they're the best choice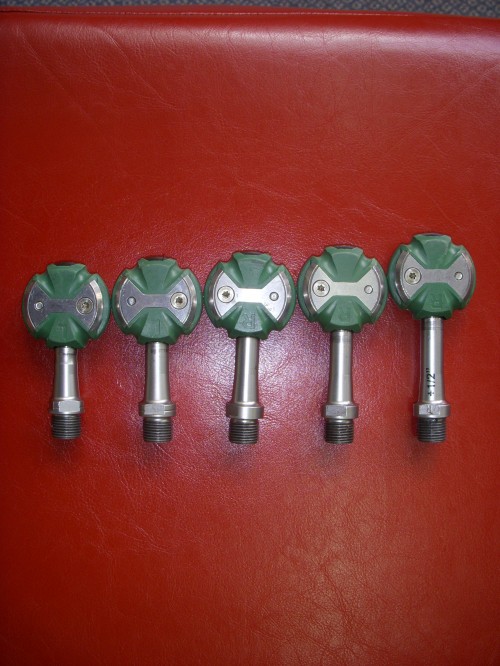 This post is written entirely from the point of view of this bikefitter and my experience with large numbers of clients over many years. If you have read this post and are interested in applying Method 1 or Method 2,  then a substantial number will have trouble  achieving the suggested cleat position. Part of this is because some brands of shoes have cleat mounting holes that are further forward than other brands.

The worst shoes in this regard (in no particular order) are Mavic, Louis Garneau, Northwave, Pearl Izumi, Carnac, DMT, Time (rebadged DMT's)  and Vittoria. The great majority will not be able to achieve Method 1 or Method 2 cleat position with these shoes . The best choices of shoe from the point of view of achieving Method 1 or Method 2 cleat position are in first place Specialized, then in no particular order, Shimano, Diadora, Gaerne, Sidi, and Lake. However this list of 'favourites' doesn't guarantee an achievable Method 1 or Method 2 cleat position, but the chances are better

Much of this is because most shoes don't have enough potential for cleat adjustment fore and aft along the sole. Just some are better. relatively speaking, than others. You might think it easy for a shoe manufacturer to have a sliding mount for a 3 hole cleat system or perhaps 2 sets of cleat mounting holes, one behind the other 10mm apart; either of which solution would improve the situation. It could be done but for historical reasons is difficult. When clipless pedals first became popular in 1985 (they were around long before this, but LOOK were the first to gain wide acceptance in '85), shoes had nail on cleats for clip and strap pedals and the area where the cleat was fitted had a  curve running front to back.. Most shoes had leather soles and the curve was there at the front because of the extra sole thickness required to nail the cleats on without the nails protruding through the sole into the feet. The first year or two of Look pedal production saw the box containing pedal and cleats also contain 6 threaded eyelets to take to the bootmaker to fit to existing leather soled shoes. It was only after Look pedals became popular that synthetic soled shoes were produced in quantity.  All of which means that the original Look cleats were designed to mate with the curved soles of the shoes of the day and all subsequently successful pedals using a 3 bolt cleat have followed suit. It is hard or impossible to maintain the same radius or curve over a longer fore and aft area to fit the cleat without thickening the sole substantially, which creates it's own problems in terms of increased seat height and increased rocking torque. It is not necessary to have a curved sole any more but to eliminate the curve would require major pedal manufacturers and shoe manufacturer's cooperating to redesign their products. I don't see that happening anytime soon; though it would be nice.

Still, it is possible for manufacturers to have a 2nd set of holes 10mm behind the original set without a lot of complication in most cases. If anyone reading this works for a shoe manufacturer; please add this to your 'To Do' list.

Which brings me to  my favourite brand of pedal  – Speedplay.

Why Speedplay?

1. Even though a 3 hole adaptor plate is necessary in most cases, they still have as low or lower stack height than their major rivals.

2. Speedplay alone offer 5 different axle lengths. Standard, minus 1/8″, plus 1/8″, plus 1/4″ and plus 1/2″. For our metric friends this approximately equates with minus 3.17mm, plus 3.17mm, plus 6.35mm and plus 12.7mm. No other pedal system (with the exception of Keywin) does this. I find that about 19% of my fitting customers need a longer than standard or shorter than standard axle to allow their knees to track properly. Be aware that I suspect that I see a skewed sample of humanity.

3. Following on from 2. Speedplay separate lateral cleat adjustment from rotational adjustment. Their only rival for axle length options, Keywin, don't.In fact Keywin have close to zero lateral cleat adjustment.  With a Look, Mavic or Shimano Spd SL 3 bolt cleat, the cleat can be angled to allow the rider to have a cleat angle that allows them a modicum of free movement either side of the angle that the foot naturally sits on the pedal under load. However, angling the cleat uses up all or some of the lateral adjustment potential at the same time. By comparison, Speedplay totally separates these functions with neither limiting the other.

4. As outlined at the start of this post, a significant number of people cannot achieve the cleat position I would have them use with many combinations of shoe and pedal. Of the major 3 bolt 'Look style' systems, Look Keo are the worst in this regard, Shimano are better and Mavic and Time are best of all. Speedplay sit somewhere between Keo and Spd SL but also offer an alternative aluminium baseplate; part no. 13330. This allows a Speedplay user to adjust the cleat anywhere from 5mm further forward than the standard baseplate allows to 14mm further back. It is rare to find a foot / shoe combination  (assuming the shoe fits properly) that doesn't allow me to position a Speedplay cleat where I want it on a client's shoe.

5. Adjustable rotational movement (on Zero models). I get a bit sick of first time clients telling me before a fit "I don't like freeplay because my foot slops around". If the rider is reasonably functional pelvically, and if their position is good and the amount of foot correction ideal and the balance of correction between arch support and wedging perfect, the feet don't slop around no matter how much rotational movement there is. Limiting rotational movement  (RoMo) to limit lateral knee movement is not generally a good idea. However, the Speedplay Zero can be adjusted to anywhere between zero and 15 degrees of RoMo.

6. Different degrees of ease of entry and exit. As a general rule I won't use Shimano Spd SL's (which are a well made pedal) for women under 65kg or men under 60kg because the minimum release tension is too high for many of them and can cause knee niggles and occasionally injuries from repeatedly disengaging foot from pedal for those who are susceptible. I have never known Speedplay Light Action and X Series pedals (which need less effort to enter or exit than the Zero range) to cause this problem for anyone.

7. A better platform for shimming and / or wedging. As I mentioned in the FOOT CORRECTION posts, I started heel wedging because I'm not crazy about combining cleat wedges with 3 bolt cleats and carbon soled shoes because too often there is slippage if multiple wedges are used. Speedplay compatible Bike Fit wedges fit within the layers of the cleat and are more securely held in place than is the case on 3 bolt  systems.

8. As per 7; For shimming Speedplay pedals the shim fits within the cleat layers.

9. The only major road pedal that is double sided. It doesn't matter which side is up, just engage the rear of the cleat and stamp.

Are there any negatives?

Of course. The cleats are heavy and need lubing occasionally. The fixing bolt torque needs checking from time to time too. They are also a cleat that doesn't like dirt or sand, so cleat covers are a good idea.  While exiting Speedplays is the same action as with other pedals, entry isn't. That means the habits of years can be counter productive on first acquaintance. Somewhere between 10 seconds and 2 weeks are necessary to become competent at entering quickly. It is worth the learning curve. Once ingrained, you will notice that the Speedplay users are usually the first to engage when a bunch starts again after traffic lights. Despite these imperfections, they are far and away my first preference for pedals for fitting purposes and my personal first choice for riding. If you can get the cleat position and lateral adjustment you want with other brands, then that's fine by me and good luck to you. If not, or if you just want the best system out there, Speedplay is the answer.

There is also one matter that is crucial when fitting a Speedplay cleat. Once you have fitted the baseplate to your shoes, whether the standard plastic baseplate or the alternate part no. 13330 extender baseplate, lay a steel straight edge along it and then across it and ensure that the surface of the baseplate is dead flat with no gaps between straight edge and baseplate. If you find a high spot or low spot, then there is the possibility that the cleat once fitted to the baseplate will be slightly distorted and release without warning. This is why Speedplay supply a range of curved adaptors with the baseplates. Most shoes don't need them but some do, particularly in small sizes with Bontrager being the most common because of the twist in long axis of the sole that many Bontrager shoes have.

After that paean of praise I must declare that I have no financial interest in and have not received any inducements from Speedplay. From a bike fitting point of view, they are simply better than the rest.

Footnote; for contractual reasons Mavic pedals are not available for sale in Australia. I have fitted a couple of pairs recently and am reasonably impressed. For a Look style 3 bolt cleat, they have more rearward adjustment potential than either Look or Shimano; more lateral adjustment potential than Look, and with the 7 degree cleat option, a 'free' quality to the rotational movement.

COMFORT + EFFICIENCY = PERFORMANCE 

Note: Often, more specific answers to your questions can be found in the Comments below or in the eBooks section and FAQ page.

To learn more about bike fit products offered by Steve, click here.


Do you have a bike fit success story? Please go here to share.

Thank you for reading, return to the Blog page here or please comment below.

Comments are closed for most posts not part of the subscription blog. If you have a question or comment, Prime members can use the Prime Q&A.