Before reading this post, it is advisable to read Get a Grip in the Articles section for background as to choice of bar shape.
Okay, I hope by now that you've been interested enough to have read enough of this site to have your cleat position, foot correction, seat height and seat setback some where in the vicinity of where they need to be. Assuming that's the case, where to put the bars and at what height to place the brake levers on those bars?
This post will be an attempt to advise on those matters. I'll start with handlebars first and then progress to brake hoods. For the purposes of explanation I will assume that our hypothetical subject has an ideal seat position, cleat position and an ideal degree and placement of  foot correction. With that proviso, the bars need to be placed so that the rider can exercise all of their hand placement options comfortably. The drops, bar tops and brake hoods should all be accessible with ease and without causing more than a minor shift in position of body on seat. Before continuing, a short digression. Comfort on a bike is necessary for optimal sustained performance for a whole host of reasons. Comfort however, has to be measured against duration of effort. A rider who is completely comfortable for a 1 hour local crit, may not be comfortable with the same bar height on a 5 hour training ride. You need to be comfortable for the use you put your bike to and for the time period you plan to do it. The parameters that allow that are:-
1. Bar width
Grab a pair of bars, stand in front of a mirror, place your hands in the drops and hold them in front of you with arms slightly extended while taking care to ensure that your shoulders are not thrust forward and that your elbows aren't locked. The correct bar width for road riding is when you look at your reflection and see that the the centre of your fists are slightly wider apart than your shoulder centres as viewed from the front. Most riders can go up a size in width without discomfort with the only penalty being that they will be more of a wind sock than necessary. Going down a size rarely causes a problem in a physical sense but there is a trade off in stability and breathing efficiency at some level. This is far worse for some than others so to be safe, use the correct width bar rather than one that is too narrow.
2. Bar height
A proportion of riders rarely use their drop bars because they can't comfortably reach them. In any bunch you will see some bikes with brake hoods and the bar tape on the top of the bars showing signs of use. But on the drops, the tape will be pristine or nearly so. There is no point if having drop bars if they can't be reached comfortably. The key determinant of bar height is the range of motion of the riders neck. The rider needs to be able to look ahead comfortably using no more than 85 – 90% of their ability to extend the neck.
When next you are riding, whether indoors or outdoors, place your hands in the drops and look comfortably ahead. Looking through your eyebrows a bit is okay providing you can clearly see ahead. From that head carriage position, try and lift your chin in an arc by extending your neck. Take care that your elbows don't straighten, this is a head movement only. You should have a reasonable range of motion still left when riding in the drops. If you don't, during sustained efforts, you will either look up only occasionally and risk hitting whatever is in your path OR you will tighten muscles of the neck, shoulders and upper back which not only can be uncomfortable, but because of reciprocal inhibition, can diminish performance and reduce  effective lung capacity to individually varying degrees. 3 examples of  the range of neck movement that is desirable for riding in the drops follow.  The first is a club racer, the second a woman on the Singaporean national squad and the third, an elite junior triathlete.
The amount time you spend on a bike plays a part in this. If you feel you can reach the drops with ease, great. As a test, ride in the drops for the last 30 minutes of a 4 hour ride. If you can't perform that task with ease, then your bars are probably still a bit low. Unless of course, you never ride for 4 hours at a time! Comfort is a relative thing. If your regular longest ride is say, 2 hours, then the position that allows relative comfort will be somewhat different to what would be required for 6 hour rides.
Signs that your reach down to the bars is too great can be –
Pressure  / pain just behind the scrotum (males) or on external genitalia (females)
Upper neck and upper back tension or pain during or after a ride
Low back pain during or after a ride
A reluctance to ride with hands placed in the drops after several hours riding.
Hand numbness or soreness.
Pain in front of the hip from cramped (and probably already too tight) hip flexors.
Many of these examples can have other causes but if you cannot ride in the drops for a substantial time (relative to the time you spend on a bike) then you should ask yourself why. I'm not suggesting that you have to ride in the drops. I am suggesting that the option should be available to you, comfortably.
3. Reach to the bars
The ideal reach to the bars is when your shoulders are relaxed and not thrust forward and your elbows are  relaxed with no sense of tension in the muscles of the upper back and shoulders. Under load, everyone shortens their position to some degree. If your position is good, this 'shortening' will be minimal. Early warning signs of too far a reach to the bars can be -.
Sliding forward on the seat under load
Thrusting the shoulders forward and extending the arms or arching the back to greater degree
General feeling of instability on the bike.
Sore hands, neck or shoulders on long descents.
The pic below is instructive. This is an elite woman under a reasonably serious load on the trainer. Basically she's at TT effort intensity. She is functional enough to relax as you can see, but she wouldn't be able to look this relaxed without an ideal reach to the bars. In hindsight, I wish I'd asked her to stop looking at her power output and to to look ahead instead; but you will get the idea.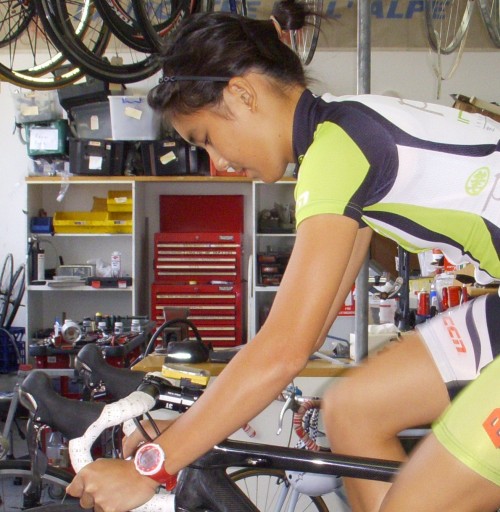 Here's another example; in this case an old bloke who rides occasionally riding at TT pace.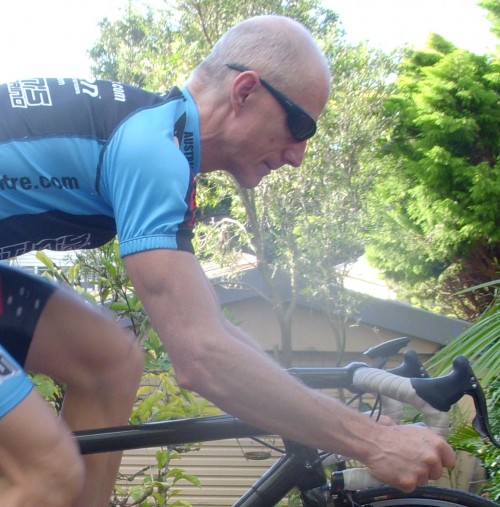 As you can see; elbows are bent and shoulders are not thrust forward or raised. The basic message I'm attempting to get across is that reaching any point on the bars should be easy. Easy when you are cruising and still easy when you are hammering.
4. Bar angle
The angle of the bars should allow you  to ride in the drops with  unbent wrists, other than when you reach for the brakes. Doing so is much more comfortable than riding for extended periods with bent wrists. Bar choice plays a large part in this too, not just the angle of the bar. This article goes into more detail about bar shape and design.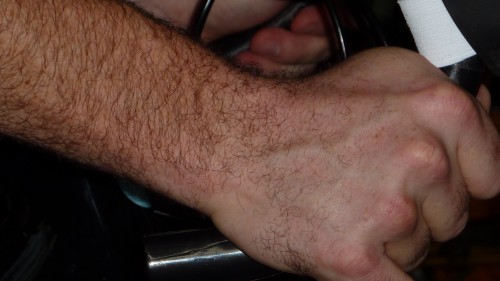 At the same time, you should be able to reach the brakes with ease.
5. Brake hood height
I would like to say that an ideal brake hood height will allow you to reach the brake hoods with unbent wrists as per the pic below but the situation isn't as clear cut as that. Some combinations rider proportion and function (which affects the angle that their arms reach to the brake hoods)  and bar and brake hood shape mean that when brake hood height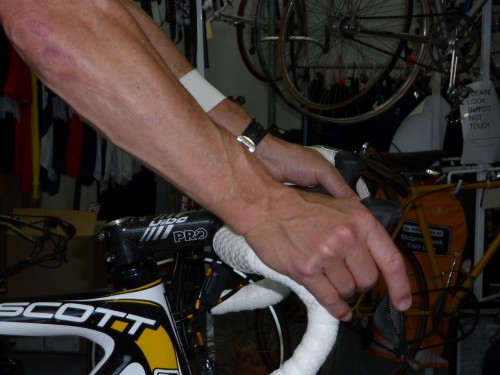 allows  unbent wrists, brake hood height may be a touch too high for climbing with hands on hood while off the seat at the same time. In cases like this a compromise is needed; a brake hood height that is a touch low for perfect comfort when riding on the seat and close to perfect when climbing off the seat. If bar choice is careful, this compromise may not be necessary but sometimes, it is not possible to avoid. When this happens the rider must decide what is the more important issue for them. Perfect on the seat comfort on the brake hoods or perfect off the seat climbing comfort on the brake hoods. Neither is wrong, it is more a matter of personal  priorities.
6. Reaching the brake levers from the drops
Brakes aren't a lot of use unless the rider can reach them. This isn't always as easy as it should be, because Sram and Di2 apart, road brake levers are not as adjustable for reach as they need to be to allow wide variety of hand morphology that the cycling population displays reach the brake levers comfortably. I get a little frustrated by this when I have fit clients with short fingers. Both Shimano and Campag have shims to allow reach adjustment but it is not enough for a sizable minority of cyclists. If you are one of the riders affected by this, the most effective compromise is as follows.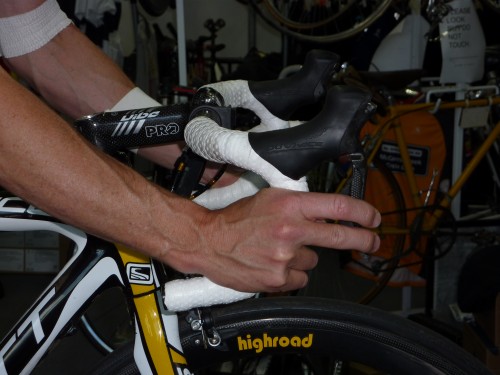 Current brakes from Shimano, Campagnolo and Sram are more powerful than what was available in days of yore. So the "short fingered solution" is to have the brake calipers more open than is the norm. Then choose the bar shape that allows the brake hoods to be at a good height and the reach to the brakes to be such that the rider can place a finger tip on them. Then adjust the brake calipers to be more open than 'normal'. That means that by the time that the rider pulls on the lever and the brake pads contact the rim, they have at least one full joint of their index and middle fingers engaged fully with the brake levers allowing good grip and leverage.
So that's about it. Unless of course your name is Oliver Torkel and you aren't happy with the choice of bars available. In Oliver's case, he decided to make his own. See below.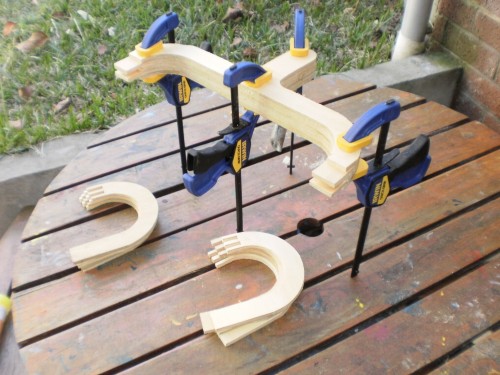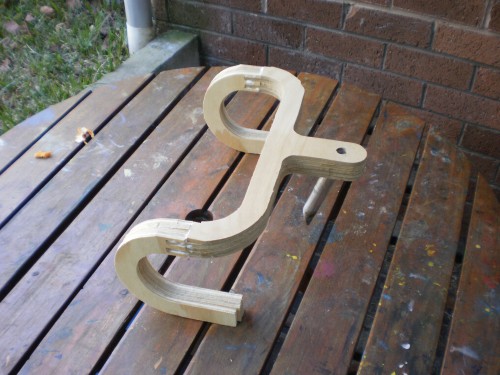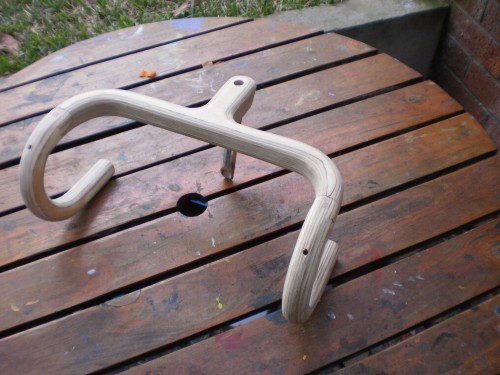 Note: Often, more specific answers to your questions can be found in the Comments below or in the eBooks section and FAQ page.

To learn more about bike fit products offered by Steve, click here.


Do you have a bike fit success story? Please go here to share.

Thank you for reading, return to the Blog page here or please comment below.

Comments are closed for most posts not part of the subscription blog. If you have a question or comment, Prime members can use the Prime Q&A.