3.

FOOT CORRECTION part 3: SHIMMING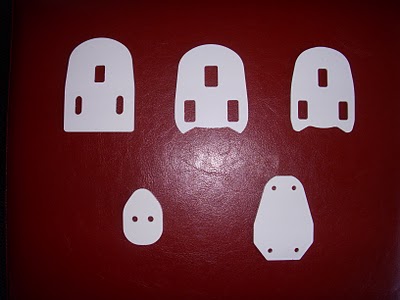 A shim is a means to lengthen a functionally or measurably short leg while cycling. A shim stack may be needed as a short term, medium term or permanent fixture.  Above are 5 varieties of shims.  From left to right on top row they are:
1.  Time / Campagnolo / Keywin compatible
2.  Shimano SPD-SL / Look Delta compatible
3.  Look Keo compatible
And, on the bottom row from left to right:
4.  SPD mtb 2 bolt and clones compatible
5.  Speedplay compatible
We manufacture each shim type in 2mm and 3mm and thicknesses so as to allow a shim stack of any height from 2mm upwards in single mm increments.  For instance, below is a pic of a 7mm shim stack underneath a Look Keo cleat.  The shim stack comprises 1 x 3mm shim and 2 x 2mm shims.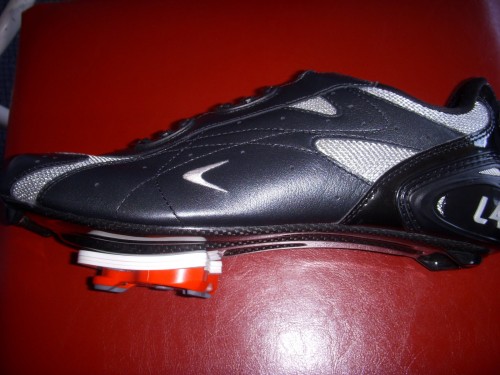 Let me start by defining terms.
A Measurable Leg Length Difference (MLLD) occurs when there is a measurable difference in the length of one or more bones in one leg relative to the other.  This is commonly determined by observation and external measurement, though this method, even when competently performed, still has an error factor of plus / minus 5mm.  Better still, because it is definitive, is an X-ray, scan or MRI which will give certainty as to any difference in leg length providing it is taken properly.
Explanatory Note:
Many X-rays or scans for leg length are not definitive in terms of accurately determining LLD unless taken with knees locked out and the subject standing as tall as they can.  An X-ray is a 2 dimensional image and as something like 96% of people display a lateral pelvic tilt (my fitting clients over some years) which causes them to stand with one knee more locked than the other in normal standing posture, this means that the leg with the greater bend at the knee when the image is taken is 'effectively' shorter in a 2 dimensional sense, than it is with leg extended, leading to inaccuracy.  The X-ray is accurate as long as both legs are in the same plane.  The best protocol I've seen for imaging to determine relative leg length was given to me by Bernard Pearn-Rowe.  Bernard,  apart from being a knowledgeable bloke and Professor of Medicine, is a bike nut like the rest of us.  I've taken the liberty of copying it here:
"The accurate measurement of leg length is amazingly difficult. It can't be done with a tape measure, and measurement of leg length on X-ray is much better.  But even this is complicated.  The measurement must be of functional leg length.  If a patient simply stands barefoot and gets X-rays taken, the eversion and foot posture that will almost certainly exist (as well as the impact of other postural issues) will distort the result and give a non-functional measurement.  Ideally, the rider should be X-rayed when standing and wearing properly adjusted riding shoes (including cleat wedges where appropriate) and the measurement taken from the washers around the screws locking the cleats to the shoe, to the top of the ball and socket hip joint."
A Functional Leg Length Difference (FLLD) occurs when there are functional factors that effectively lessen the ability of one leg to reach as far towards the bottom of the pedal stroke as the other leg.  Some examples are:
a) A markedly tighter, hip, lower back, hamstrings or any combination of, on one side than the other
b) An unsupported arch that drops noticeably more on one foot than the other
c) Compromised ability to control a major joint involved in pedaling on one side. Usually because of excessive laxity resulting from a serious injury.
d) A functional pelvic asymmetry; i.e. an inability to sit squarely on the seat, which in turn can have a variety of functional and neurological causes.
e) Other functional issues that impact on the ability to extend the leg.  Perthes disease being one example.  Perthes disease causes malformation in the shape of the femoral head and acetabulum (ball and socket of hip joint), and I've seen several instances where one side was much more affected than the other.  Major knee injuries, a restricted range of motion in one ankle or surgically fused ankles are other examples.  There are others too.
What matters when fitting a rider to a bike is functional symmetry of movement.  The client in front of you wants a result today.  They may well be open to the idea of having X-rays taken or of consulting a structural health professional for a course of treatment that allows them to reduce or eliminate a functional difference in leg length; but right here, right now, they want a result that allows them to keep riding their bike for the physiological and psychological benefits they derive from it.  This is where shimming enters the picture.Ideally, if a rider is sitting as squarely as possible, and all of the factors that present challenges to on bike pelvic symmetry have been addressed to the greatest degree possible, then any remaining difference in pedaling fluency between legs needs to be addressed with a shim.  What percentage of riders need a shim?
The average of my clients over quite a few years is just over 29%.  I probably see a skewed sample of humanity as most people who seek our services have an issue that shimming may play a part in resolving.  In 20 odd years of bike fitting, I am still looking for my first symmetrical client so it comes as no surprise to me that close to 1/3 of riders need a shim.  Sometimes the shim may be as little as 2mm, which is why we make them.  So, how do you determine whether you need one?
Firstly, start by reading and applying the info in FOOT CORRECTION Part 1 and Part 2.
Next, ask yourself whether one leg feels stronger or more fluent than the other?
If the answer is yes, don't automatically assume that it is the less fluent leg that is the problem.  You may be canting your pelvis toward the functionally shorter leg causing the functionally longer one to overextend.  Then again you may not.  If you perceive a noticeable difference in the fluency and drive of each leg, as a first step, mount your bike on and indoor trainer, warm up and pedal under reasonable load.  Now drop your seat 5mm and reassess. Most riders sit too high (see this link for more about this and read the postcript about indoor trainer choice) and as a result, most will autonomically pick a side to favour and a side to sacrifice because of this challenge to their pelvic stability.  The favoured side is the side that the rider cants their pelvis toward (most often the right side but not exclusively).  Did dropping the seat improve the equality of perceived effort of the legs?  That question has only 3 answers:  Yes, No or Maybe.  If YES, do you feel that both legs are functionally the same or very similar while you pedal, in terms of smoothness of stroke, equality of weight bearing on each sit bone and power production?
If the answer is still yes; then increase the resistance on your trainer to the point where you can still maintain pedaling technique but are working at the kind of intensity that you can only sustain for a couple of minutes.  Then ask yourself again if both legs feel much the same.  If the answer is still yes, then you don't need a shim.
If the answer is no, read on.  If NO, drop your seat further in 3mm increments.  There will come a seat height where you either feel that both legs feel much the same, in which case you don't need a shim; OR that one leg is feeling good but the other leg feels like it  is under extending and cramped.  The leg that now feels good may or may not be the one that originally felt more fluent depending on what your pelvis was doing by way of compensation.  You need to experiment with a shim stack under the now less cramped leg at a variety of seat heights.  The simplest way to do this is to fit a 3mm shim under the appropriate leg and raise the seat back up 3mm.  Does the cramped leg feel better now?
If yes, great.  If no, still a bit cramped, fit another 3mm shim and raise the seat another 3mm.  Experience tells me that of the majority that need a shim, the greatest number need a shim stack of between 2 and 6mm.  Any thing more than that suggests a marked MLLD or a substantial functional issue that needs addressing off the bike. It is worth getting an X ray taken by the method suggested by Bernard above. Alternately, a CT scan is more accurate than an X ray if taken properly.
Lastly, never assume that the less fluent leg is necessarily the problem side.  In many cases it is not.  When subject to any challenge to our position on a bike, we will all favour one side over the other (at a level below conscious thinking) and pay a price on the other side, large or small.  So, if shimming the less fluent leg doesn't feel so good after a trial, shim the other leg and make an assessment.  See the table below.  If MAYBE, do as per NO.
This is about as simple as I can make this matter but it is not a foolproof method because it relies on your perceptions of what you are feeling and doing.  Many people have a false view of what they are doing in space on a bike.  It's a human thing.  We lack the processing capacity in matters of motor control, most of which is unconscious anyway,  to be really accurate in our awareness of the detail of what we are doing in space. So we impose a mental veneer of symmetry on our actions.  In most cases this does not accord with reality.  For that reason, it is valuable for this exercise to have an observer present.  The observer needs to be standing above and behind you to determine which hip (if any) is dropping and which hip (if any) is twisted further forward than the other.  Additionally, they can provide an opinion on the relative velocity of the extension of each knee, which as you read in this post is the prime visual cue for seat height.
It is unlikely that your observer has had practice in what they are looking for so I will post some videos in an addendum to this post.  Before going further, below is some info from my records about shimming frequency:
| | |
| --- | --- |
| SHIMMING FREQUENCY | 29.2% |
| SHIMMING FREQUENCY LEFT FOOT | 10.2% |
| SHIMMING FREQUENCY RIGHT FOOT | 19.0% |
This is a 3 year average of something over 1400 visits to us.  In that time, the shim stack height necessary ranged from 2mm to 24mm, and as you can see, the majority were on the right side.  Why?

Because as any physiotherapist, chiropractor or osteopath will attest, more people have a functionally shorter right leg than have a functionally shorter left leg.  The 'why' of that is a large subject in itself.

Above all, don't think (as many do) that using a shim somehow makes you less than perfect.  You aren't perfect anyway.  While perfect symmetry between left and right sides is an ideal to be striven for if your ambition is to ride a bike as well as you can with the least chance of injury, it is not attainable beyond an individually variable level. What we need is 'functional symmetry'.  That means having both legs reaching through the bottom of the pedal stroke as evenly as possible, while sitting as squarely as possible on the seat and without creating a problem for either leg over the top of the stroke..

One important thing to remember.  As you increase the distance of the sole of the shoe from the pedal platform by adding a shim stack, you also increase the work load of the lower limb in stabilising foot on pedal.  This effect is called, 'rocking torque'.  In simple terms, the increased distance that the shoe is set above the pedal platform acts as a lever, meaning that for a given degree of heel drop while pedaling, the foot rotates further back over the pedal than it would for the same cleat placement on the sole of a the same  shoe without a shim stack. In effect, during hard efforts (like climbing hard or forcing a gear on the flat) there is 'effectively' less foot over the pedal than the cleat position on sole suggests.

This is the major drawback with shimming.  So there are two choices.  Firstly, ignore the need to shim.  If you really need a shim, this is not a tenable choice.  Secondly, use a shim stack but in such a way as to minimise the increased rocking torque.

The second option means that as the shim stack height increases, the cleat needs to be moved further back relative to foot in shoe to give the same amount of 'effective' foot over pedal under high load as would be the case without a shim.  The problem is that moving the cleat further back increases leg extension (in most cases; some are atypical) which means that a larger shim is required, etc.  In practice, the best compromise is that for shim stacks of 4mm or less, ignore rocking torque as it will be barely perceptible for most riders.

For best compromise, for every 5mm of shim stack (up to and including 10mm), move the cleat back 1mm further than you would without a shim stack.  For example, if you have your cleat positioned so that the centre of the ball of the foot (see this post for how to determine this point) is 10mm in front of the pedal axle, then for a 5mm shim stack you will need 11mm and for a 10mm shim stack you will need 12mm.

For the small minority that need more than a 10mm shim stack, you will probably need to exceed the 1 in 5 ratio.  You will find that really large shim stacks need to be stable first and foremost.  The higher the shim stack, the more the cleat needs to be moved back on the shoe which partly negates the height of the shim stack because of the greater leg extension that usually occurs with a more rearward cleat position.  Some where between these contending requirements is an acceptable compromise.

One last word and a declaration of interest.  We manufacture shims.  So do Specialized and Speedplay.  Speedplay manufacture shims for their pedal systems only and there is no problem with them other than lack of choice of thicknesses, 3.5mm is it.  Specialized manufacture 3mm shims to suit a variety of pedal systems.  Specialized shims, like Specialized in shoe wedges, present a Material Challenge to the nervous system.  (For more about Material Challenges click here and here.)  If you are sceptical about my motivations in saying this, you are not the first.  All I can say is this; Specialized frames, seats, shoes and insoles are fine in this regard, but their shims and in shoe wedges are not.  I will demonstrate this on request and have done so, I would guess, several thousand times.  Including to some clients who own stores that sell Specialized products and subscribe to the BG fit system.  There is also a second problem with Specialized  cleat shims.  The shape closely follows the outline of the cleat they are intended to sit under.  This is the same  mistake that I made with our first generation of shims many years ago.  If multiple Specialized shims are are used, pedal entry can range from easy to difficult to impossible depending on rider and pedal system.

That is it for shimming.  There will be a Foot Correction part 4 – Foot Separation distance, in the near future.

Foot Correction series: Part 1 – Arch Support and Part 2 – Wedging

COMFORT + EFFICIENCY = PERFORMANCE

Note: Often, more specific answers to your questions can be found in the Comments below or in the eBooks section and FAQ page.

To learn more about bike fit products offered by Steve, click here.


Do you have a bike fit success story? Please go here to share.

Thank you for reading, return to the Blog page here or please comment below.

Comments are closed for most posts not part of the subscription blog. If you have a question or comment, Prime members can use the Prime Q&A.