As all will have all noted, there is a range of pedaling technique out there in bicycleland. There are 3 major 'themes' with plenty of individual variation within each.The aim of this post is to explore the question as to whether any of them offer a performance advantage to the rider. First I had better outline the various 'styles'. For convenience I'll use the clock face analogy. 12 o'clock means TDC (top dead centre), 3 o'clock is the crank horizontal and forward, 6 o'clock is BDC (bottom dead centre) and 9 o'clock is crank horizontal and pointing rearwards. I won't bother with the 'o'clock' and just be using clock face numbers in bold.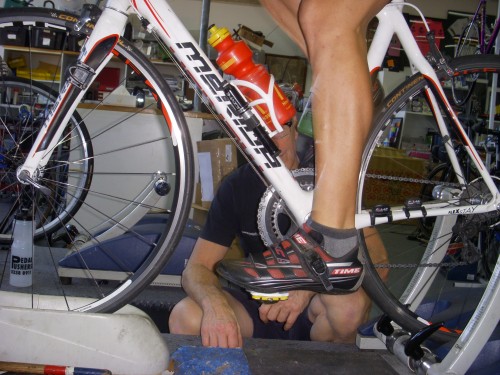 Pedalling technique is a spectrum; so when I talk about the 3 styles below, I'm not claiming  that a person within  a 'style' pedals in exactly the same way as everyone else with that category. Category is a good word actually, as there is a range within each named technique.

We'll start with Joe ( or Josephine) Average: This the common technique that the majority of riders use, more or less. The heel starts to drop (relatively speaking) soon after 12  ( though it doesn't drop below the heel) then somewhere around 3 or 4  the toe starts to drop further down reaching 6  with the toe moderately down.. After 6, the heel rises again until it starts to drop approaching or just  after 12 where the cycle starts again. This is the way that most riders pedal, more or less. An example is below.

Toe Dipper: This is the person who points their toes much more than Joe or Josephine and maintains this toe down technique even under load; at least relatively speaking. The degree to which the toe is lower than the heel will vary during the stroke in most cases. Click on play below for a Toe Dipper.

Heel dropper: A lot of heel drop between 12 and 6 on the pedal down stroke when compared to Joe or Josephine,  though the heel may rise substantially after 6 on the upwards phase of the stroke. Some, though not all heel droppers use a lot of ankle movement.

Again, see below.

Note: As you can see, I've used the same 'foot model' for each video as it was quick  and made my life easier. A big thank you to DHBC's Michelle Pezzutti for being the 'foot model'.

A brief summary of each technique.

Everything I will say next comes with the caveat "All other things being equal".

I'll use Joe and Josephine's moderate / unexceptional technique as the basis for comparison.

When compared to Joe and Josephine Average the Toe Dipper can sit higher because pointing the toe allows the rider to effectively lengthen their stroke. When we pedal the upper leg is our primary lever and the foot is a secondary lever. Pointing the toe reduces the leverage the foot can apply. So Toe Dipper can be summed up as "Less Leverage / Longer Stroke" The other thing to remember about Toe Dipper is that the major vector on the pedals is more or less towards the rear. For every action there is an equal and opposite reaction, meaning a greater tendency for the body weight to tip forward. With the caveat mentioned above, Toe Dipper needs to sit further back (and higher) than their hypothetical twin who pedals with different technique so as to unload their upper body and reduce weight on the arms and hands.

Heel Dropper tends to use the foot as a lever more than Toe Dipper but the lower heel position of the foot through out the down stroke  extends the knee more for a given seat height. In turn this means that with the caveat above in mind, Heel Dropper's need to sit lower.  Heel Dropper can be described as More Leverage / Shorter Stroke. Additionally, Heel Droppers vector on the pedals is much more forward for most of the stroke than Toe Dipper and so can sit further forward (all other things being equal) because Heel Droppers are pushing themselves back in the seat with every pedal stroke and unweighting the upper body more than Toe Dipper of Joe and Josephine relative to a given seat setback

Before getting into the merits of each style, lets talk about down stroke versus up stroke. Some people think it is an advantage to train yourself to pull up forcefully while others think it is best to just push with each leg in turn and let the up stroke look after itself. Pedaling a bike is requires a large number of muscles to fire in a precise and complex sequence. The major influences on this process are the body position of the rider in space relative to the bottom bracket and gravity, force feedback to the CPG from the feet, the output required and how functional the rider is. As an example, a rider can have the best position in the world but if they are inflexible, particularly asymmetrically so, they will never be able to sustain a load as well as their  hypothetical identical twin who is more functional / symmetrical.

A problem that is almost  endemic in our chair bound society is tight hip flexors, particularly the psoas. Hip flexors as a group lift the femur (upper leg bone)  if the torso is fixed in position or help bend the torso forward if the legs are fixed in position. One of the hip flexors, the psoas, are the muscles in humans that are least adapted to an upright position. In quadruped mammals, the angle between femur and pelvis never exceeds 100 degrees, whereas in humans it approaches 180 degrees when standing upright. So our psoas needs to be able to stretch out enough to allow that. Unless you stretch properly and regularly it is unlikely that you will have  flexible psoas because like most others, you spent 10+ years sitting at school; you sit on a bus, train or in a car to travel to work; you sit down to work and to eat; you sit down at home to relax and so on ad infinitum – , you get the picture; all of which cramp the psoas. This predilection for sitting means that most people attain adulthood with tight psoas (and other hip flexors and it only gets worse from there on unless a quality stretching regime improves the situation. The psoas is working in any position a human can maintain except lying down. As a species we sit too much causing us to develop short, tight psoas. Okay, nice little anatomy digression so far but where is it going?

Because the psoas originates from the 5 lumbar vertebrae (and discs) and the lowest thoracic vertebra and crosses the hip on its way to attaching high on the inner femur, it is absolutely not the muscle group that the great majority need to stress or tighten more. Tight psoas not only potentially load the lower back but  also neurologicaly inhibit the gluteals, the largest most powerful muscle group we have and the one most responsible for extending the hip (pushing the upper leg down). Translation = don't pull up forcefully  for extended periods if you want a pain free back and glutes that work properly. It is natural to pull up forcefully under some circumstances when off the seat, and occasionally for brief periods of acceleration in a big gear while seated.  I repeat natural. It is not natural to pull up forcefully for long periods when seated. There are people who 'naturally' pedal like this and in almost all cases I have seen, this is a compensatory response to a woeful seat position, cleat position or both. I check the psoas tonicity of every fit client under load. In my view, the psoas should be moving because the hip is moving but should not necessarily be active in steady state pedaling. The huge majority of fit clients exhibit a lot of psoas activity even on the down stroke!  Now the psoas does play a part in supporting and bracing the lumbar spine but over a long time I've only seen  this down stroke tonicity in riders who had poor functional stability and poor motor patterns, which in turn are a result of poor posture and poor range of motion in hips and lower back. In other words, the majority. And no, I'm not kidding.

If you have a good bike position, good cleat position and are reasonably functional, the phase of the pedal stroke where each leg has good leverage should overlap the other to some extent. As one leg is running out of steam, the other should be coming on song.

So which technique is best?

Some years ago I was loaned some old footage of the greats of yore. Amongst these were three 5 time Tour winners; Anquetil, Merckx and Hinault.. What stood out to me in the footage was that Anquetil pedaled with pointed toe, even up the cols. A Toe Dipper extraordinaire.  At the opposite end of the spectrum was Merckx,  as big a Heel Dropper as you are ever likely to see. In the middle, Hinault was the personification of Joe Average. Each of these riders won 5 Tours and a whole lot of other stuff and  can lay claim to being one of the greats, if not THE great of their respective eras.

What that also tells me is that pedaling technique is not a defining characteristic of cycling excellence. I will stop short of saying that a rider can't train to change their pedalling technique, but most attempts I have seen come unstuck as soon as the rider is in a high load, high heart rate situation. Under those circumstances we tend to revert to what comes naturally to us. Would it not be better to accept what comes naturally and refine it by doing it a lot?

With that in mind, don't think about your pedalling technique. Work to identify and sort out your functional issues, push on the pedals and let your Central Nervous System work out the most efficient muscle firing sequence that allows you to perform the task. Whatever results is likely to be the best technique for you, relative to the parameters of position you have and the functional abilities you've developed (or neglected to develop).  If you want to improve your technique and get the best out of yourself in terms of pedaling technique, the secrets are below. You need –

1. Reasonable flexibility. If you are overly tight in various areas (common) then you will be neurologically inhibiting muscle groups that are essential to performance. Muscles that have a good range of motion can apply more force than muscles that don't.  I hope you don't need a bigger carrot than that.  Do you need to be a yogi?

No. But you do need to NOT have severe restrictions in or around the hips, lower back and legs for effective pedaling. For good aerodynamics and ability to breathe efficiently, you need reasonable ability to extend your spine and reasonable flexibility in the torso, upper back and shoulders and neck.

2. Good posture. Good posture = reasonable core strength = reasonable functional stability = less need to use upper body muscles to stabilise yourself on the seat when you are riding hard. We've all seen riders who under pressure, look like they are trying to drag the bike down the road with their arms, shoulders and upper back. . If we aren't inherently stable on the seat the only other mechanism we have is to enlist the arms, shoulders and upper back in an effort to provide a 'platform'. This can only happen at the cost of breathing efficiency. It also only happens if the rider's position is poor and / or if the rider is functionally poor.

3. A good bike position and good cleat position.

As you can see, the only 'secret' is to be the best version of yourself that you can be, relative to the time and motivation you have.  Your pedaling technique can change with changes of equipment or position but that is your nervous system's natural response to changed input parameters. So my view is that rather than worry about your pedaling technique, worry about your bike position; worry about the way that you function; work to improve both and the pedaling technique that results is the one that your central nervous system determines is the best for you. Something like 90% of brain activity is tied up in controlling posture and movement. Then there is a component devoted to regulating body functions, healing and so on. The remaining small amount is the conscious 'thinking apparatus". The factors that determine your pedaling technique are:

1. The position you hold in space relative to gravity and relative to your bike. Muscle enlistment patterns change as the body's relationship to gravity changes. So uphill pedalling technique will vary from flat road pedalling technique in most individuals to varying degrees. Equally, a change in say, cleat position or seat setback will have an effect, large or small, on pedalling technique

2. Load. You will pedal differently at 110 rpm than you will at 80 rpm for same output and conditions.

3. Force feedback from the feet. We have a bundle of neurons in the lumbar spine called the Central Pattern Generator or CPG. This is what sends the signals to the leg musculature saying in effect "Switch extensors on and flexors off / switch flexors off and extensors on" that allow us to push on the pedals. This process is overseen by, but not directly controlled by the cerebellum unless you are consciously focusing on the task. Now I'm sure that you can consciously focus on the task, but don't try and tell me that in a hurly burly sprint at 60 km/ h you are thinking about how you are pedalling. You are not. You are doing your best to push on those pedals and yank on those bars as hard and as efficiently as you can. This is not a conscious process. It is a conscious decision to sprint and possibly to back off a bit here, or accelerate through that gap there, but the pedalling process is not within your conscious control under these conditions.

It is within you conscious control on flat roads at 25 km/h if you choose it to be, because the load is light and there's plenty of time to 'play' with pedaling technique if you choose to. But who cares?

Riding at slow speed and light load has it's place, but when the pressure is on and the wattage rises, don't worry about your pedaling technique. Accept what comes naturally to you and refine it by doing it (riding) a lot. What results is the best technique for you, for who you are functionally and for the position (good, bad or indifferent) that you have on your bike.

Stay upright.

COMFORT + EFFICIENCY = PERFORMANCE

Note: Often, more specific answers to your questions can be found in the Comments below or in the eBooks section and FAQ page.

To learn more about bike fit products offered by Steve, click here.


Do you have a bike fit success story? Please go here to share.

Thank you for reading, return to the Blog page here or please comment below.

Comments are closed for most posts not part of the subscription blog. If you have a question or comment, Prime members can use the Prime Q&A.