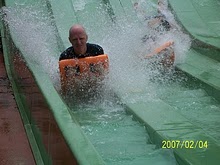 I'm a bike fitter from Sydney Australia with a world wide clientele. Over close to 30 years I've evolved principles of bike fitting that can be applied to any fitting situation because the nature of these principles means that the detail of their individual application varies as much as people vary.
 Cycling Industry CV
Have developed key bike fitting methodology and been granted patents on aspects of this in the United States, United Kingdom, Australia and New Zealand.
Have been the subject of a 10 page profile "The Heretic Will See You Now" in the world's largest circulation English language cycling publication, "Bicycling" (U.S.A.) in November 2014
Is a Steering Committee Member of the International Bike Fitting Institute, a non-profit organisation which judges the expertise of bike fitters and bike fit training programs and has achieved IBFI's highest ranking for expertise.
Have been the subject of a 5 page profile " The Case of the Misfit" in Asia's largest circulation English language cycling publication, "Cycling Malaysia", in November 2015
Have trained elite fitters from around the world including Colby Pearce, past U.S. Olympic cycling coach, pro cyclist and technical advisor to Pro cycling team, Garmin – Sharp and Europe's busiest bike fitter, Scherrit Knoesen, in my patented fitting methodology.
Have produced a dvd set on bike fitting principles and practice that is sold around the world.
Have written widely read original material about bike fitting problem solving for the worlds largest cycling website, CyclingNews.com between 2006 and 2011.
Developed and wrote the material for the worlds's most hit upon bike fitting website, com
Has presented at bike shows and sports medicine conferences on bike fitting methods and practice
Have developed a simple, easily applied method that resolves the most common postural distortion; the lateral pelvic tilt.
Have developed and manufactures various bike fitting specialist fittings; heel wedges, leg length shims and more which are used around the world.
Have written widely read material in Australia's largest circulation cycling magazine Bicycling Australia for more than 20 years.
Have fitted riders from UCI Pro teams, Cofidis, Francaise des Jeux, Discovery Channel, Once, BMC, Polli, Rabobank and Amore Vita
Have fitted World champions,National champions, National Team members and Olympic medallists  from the Czech Republic, Australia, France, New Zealand, South Korea, Singapore and the U.S.A
Have lectured at the New Zealand Academy of Sport on bike fitting methods and practices
Have worked for Mavic Service Course Neutral Race Service) as a wheel builder and race driver at Olympic Games and World Cup rounds
Have at various times, been Warranty Service Tech for Campagnolo, 3T and Corima
In no particular order my major interests are:  Bike Fitting, Exertion (including,most importantly, cycling), Reading, Chess, Famil, Finding quiet moments to think, Beer, (If you don't know what 'real beer' is, you won't understand), Writing, People.
I like: Laughing, Learning, Well reasoned opinions, Tenacity, Aphorisms, The Mighty Rabbitohs.
I dislike: Whinging, Specious reasoning, Tenacity when allied with stupidity, Sound bits, Most films.
For an interview with Steve, click here.