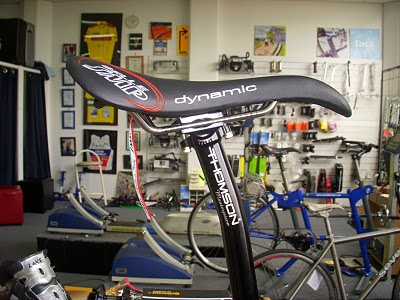 We source fit clients from all over. In January we had clients arrive from the U.K., U.S.A and various parts of Australia. Within that months total of fits, there was an issue common to five clients. All five had been "professionally fitted" (their words) and the major cause; or at least a large part of the cause for the issues that brought them here was too high a seat height. And I don't mean a couple of mm; I mean between 12mm and 25mm too high.
Getting a rider's seat height correct is simple stuff. If a rider sets his or her own seat height too high there is no blame attached; but if someone has paid money for a "professional" fit, there is no excuse for fitters on three continents getting it wrong, except in the rarest of circumstances. So how to reliably set seat height?
Firstly, a word about how the fitters of the five people in question had arrived at the (in)'correct' seat height. Two had used fitters who used a motion capture system. One had used a fitter who used a video capture system. Two had used fitters who used equations (like leg x whatever number is chosen = seat height) or goniometers. To critique these methods – goniometers are joint angle measuring devices. The aim is to measure the included knee angle (angle of upper leg to lower leg behind the knee) at the bottom of the pedal stroke.
The problem is many users of goniometers blindly follow recommendations based on 'averages' rather than developing good observation skills. A simple version is "Correct seat height equals an included knee angle of between X and Y degrees at the bottom of the stroke." A more sophisticated version is "Correct seat height equals an included knee angle of between A and B degrees at the bottom of the stroke if you are flexible; between C and D degrees if you are moderately tight and between E and F degrees if you are very tight." Motion capture and video capture system recommendations are based on similar thinking with the difference being that a motion capture system measures the included angle via 3D cameras and a video capture system allows the fitter to measure the included knee angle on screen.
All have the same failing: They are based on averages. Who is to say whether you, the client, are average… Whatever average means. They are just plain lazy and inaccurate ways to determine seat height; unless you get lucky and are 'average.'
Rules of thumbs and equations have even less merit because, you the client are aside from the process, not part of it. If you want an equation to set your seat height; stay home and do it yourself rather than pay a fee for someone to ignore how you function and use a number.
All the methods above have the same fundamental failing. The seat height recommendations flowing from them are not the result of direct observation but are 'averages' without any regard to the idiosyncratic way that YOU relate to your bike.
How to set seat height accurately if you are a bike fitter:
Focus on the velocity of extension of the rear of the knee under significant load. That velocity should be a constant. If you see even the tiniest flicker of acceleration at the rear of the knee before the bottom of the pedal stroke, then the rider is losing control of the motion and is too high; at least on that side. If in doubt, increase the load a touch. Always check the other side under similar load and if there is a difference in fluency between sides, have a look at the pelvis from the rear for your clues as to why. What is significant load?
Significant load is enough resistance to have the rider forcing the gear a bit at 80 – 85 rpm but not so much as to sacrifice technique. This kind of load is similar to riding a hill hard while seated, in one gear harder than is comfortable. Under this load, better than 99 percent of riders will drop their heels more, and extend their legs more than they will under less load or in flat riding where momentum plays more of a part. It is this kind of load that determines seat height.
How to set your own seat height:
Find a hill that takes at least three minutes to ride up. Warm up thoroughly and then ride up that hill under significant load (see above for definition of significant load). Do you feel like you are riding a step machine or do you feel fluent through the bottom of the stroke on both legs?
If you feel like you are on a step machine or feel a bit powerless, drop your seat 3mm and repeat the hill.
If you feel equally fluent through the bottom of the pedal stroke on each side, raise your seat 3mm and repeat.
For those who have to drop their seat, repeat the hill and drop the seat 3mm per time until you feel fluent through the stroke while forcing the gear.
For those who have to raise their seat, repeat the hill and raise the seat until you feel like you are a touch less fluent on one side than the other. This is an early warning sign that you have entered challenge territory. (For more info about challenges.)
Now drop your seat 6mm. Why not just drop the seat to the last 3mm increment? Because not every day is the best day of your life.
Okay, with a bit of commonsense, you should now be able to set your own or your clients seat heights efficiently. Best of luck with it.
Postscript: One last word for fitters. The velocity of extension of the rear of the knee is the prime visual cue in determining an individually suitable seat height. However, you need to use a trainer that has enough momentum to not cause a staccato pedal stroke at significant load simply because the trainer doesn't have enough momentum to mimic on road feel. Wind trainers are basic, reaslistic in feel and ideal. There is the additional aural cue of the fan noise. Succinctly, whirr, whirr, whirr is bad while whhhiiiiiiirrrrr is good. The only magnetic trainers that are worthwhile either have large flywheels or plenty of computer power to smooth them out. Fluid trainers are okay but as a general rule need a flywheel mass of at least 3.5kg.  More is better.
I use a pair of Sidea SB4′s mag trainers with flywheel mass of, I would guess, 30 odd kg. And the Velotron is being commissioned soon when I have the time to modify it the way that I want to.
An addendum to this post is available here.
Note: Often, more specific answers to your questions can be found in the Comments below or in the eBooks section and FAQ page.

To learn more about bike fit products offered by Steve, click here.

Do you have a bike fit success story? Please go here to share.
Thank you for reading, return to the Blog page here or please comment below.