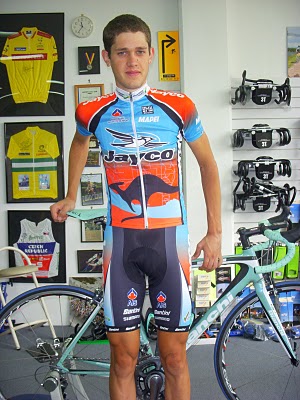 Meet Ben Dyball. The pic is Ben in his brand new AIS national U23 outfit and the bike is his team bike. I first met Ben 2 1/2 years ago when he came in on the recommendation of Eddie Salas and Peter Milostic. Aussie readers will know who they are; for everyone else, Eddie is a 10 time national champ and during a 5 year stint with Amore Vita and Polli, rode 3 Giri d'Italia, each time being his team's best placed finisher. Peter is an I can't remember how many times state and national TT champ and has won the national road series. Ben works with Peter and Eddie at Eddie Salas Cycles.
Ben is a climbing freak and a handy TT rider. GC material. Talent was not Ben's problem; dysfunction was, exacerbated by a poor position. For the bike fitters amongst you, when I first met Ben I noted:
Left foot static varus 6 degrees
Right foot static varus 7 degrees
Both hips internally rotated
Bears 3kg more on left leg
Right posterior iliac crest 25mm higher than left side
Right posterior iliac crest 30mm anterior to left side
Right AC joint 12mm higher than left side.
Left cerebellum motor control dominant
Poor global proprioceptive awareness.
Ben was quite flexible on the left side but significantly tighter in right gluteals, right hamstrings and right psoas than on the left. On the bike Ben's skewed awareness of his position is space meant that he sat significantly to the left of the centre line of the seat. He left here with his seat dropped 28mm, moved forward 33mm, reach out to the bars reduced by 50mm and drop to the bars reduced from a near shop record of 155mm to a still significant 131mm. I used 2 degrees of inversion in the heel of his left shoe and 1 degree of inversion in the heel of his right shoe using cut down BFS cleat wedges. Also a 4mm shim under his left shoe So, large changes in position.

In the 2.5 years since then, Ben has been here 5 times with a total of 9 bikes. New teams meant new road bikes, new TT bikes and he races his mtb as well. Also and much, much more importantly, Ben has worked like a demon to improve how he functions. His pelvis is now square, there is no difference in major joint range of motion between left and right sides, he sits centred on the seat and I've removed the shim from under his left foot……… it's no longer necessary. The only real change since the first visit has been increased arch support under both feet. With all the bike and equipment changes, Ben's position in space relative to his bike has stayed much the same. What his huge, self driven improvements in function have helped him do is to win the toughest stage race in the country; the Canberra Tour; as well as the Mt Hotham stage of the Tour of Bright. There have been plenty of other wins along the way.

Now he's off to Italy and with a bit of luck will ride well enough to attract interest from a major team. I wish him well.

The message is this; talent isn't rare. The riders who succeed are the talented ones who tick all the performance boxes. Apart from the obvious ones like training smart and picking your parents well, that means making structural fitness a priority……….and a good bike position too. But the best bike position and biggest engine in the world won't do much good unless the rider is in the structural shape to make the best use of them. Otherwise, they just get injured. Go get 'em Ben.

Note: Often, more specific answers to your questions can be found in the Comments below or in the eBooks section and FAQ page.

To learn more about bike fit products offered by Steve, click here.


Do you have a bike fit success story? Please go here to share.

Thank you for reading, return to the Blog page here or please comment below.

Comments are closed for most posts not part of the subscription blog. If you have a question or comment, Prime members can use the Prime Q&A.