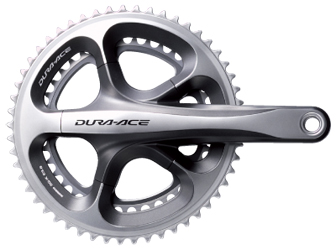 Lately I've been getting a lot of email from readers of the site asking in one way or another: "Should I be using compact cranks or standard cranks?" It is going to be much easier to give enquirers the URL address for this post than it is to  recap multiple times. This post borrows heavily on an article I wrote for  BA magazine some time ago. So my apologies to Australian readers who may have already seen much of this.
COMPACT VS STANDARD CRANKS:  GEARING IMPLICATIONS
What is the difference between 'standard' cranks and 'compact cranks?
The difference is in the chain ring sizes which is a product of different PCDs. PCD stands for "pin circle diameter" and is occasionally referred to as BCD or "bolt circle diameter" and is the size of a the circle formed if the centre of the circle is the axis of the bottom bracket axle with the circle passing through the centre of each chain wheel pin.  By far the most common chain ring size option for 'compact' cranks is large ring of 50 teeth and a small ring of 34 teeth, though other options exist with 50 / 36 , 52 / 36 and 48 / 34 also being available, but less common. These all require a PCD of 110mm and this PCD is common to all compact cranks other than Campagnolo who use a 113mm PCD
In contrast, standard cranks use a PCD of 135mm for Campagnolo or 130mm for Shimano, SRAM, FSA and the rest. a PCD of 135mm allows small chain ring options down to 39 teeth and while a 130mm PCD  will allow an inner chain ring size of 38 teeth, in practice 39 teeth is the default option and is usually paired with a 53 tooth or occasionally, 52 tooth outer chain ring.
2014 Update  An exception to above is that the latest model Shimano road cranks are all 110 mm pcd. They can be sourced with 50/34 or 53/39 chain rings.
What difference does this make to gearing?
The answer is dependent on what rear cogs are chosen. If the same rear cassette is chosen, say 12 /25 comprising 12/13/14/15/16/17/19/21/23/25 tooth cogs, then the compact crank will have a lowest gear ratio that is 13% lower than a standard crank. However, top gear will also be lower by 6%. So in simple terms, if using the same rear ratios, the standard crank will always have a higher top gear and the compact crank will always have a lower low gear.
What effect will these differences have on speed?
With the 12 / 25 cassette example above and while pedaling at 100 rpm, a compact crank with 34 tooth inner ring would give a bottom gear speed of 17.3 km/h. Meanwhile a standard crank with 39 tooth inner ring would give a speed of 19.8 km/h at 100 rpm. The 2.5 km/h difference in speed in low gear doesn't sound like much but in fact it is a substantial difference. The key to understanding just how large a difference is to calculate what size rear cog a 39 tooth inner ring on a standard crank would need to be paired with to give a similar speed for cadence in low gear. The answer 39 x 29, yes, 4 teeth larger would be needed to give a low gear speed of 17.1 km/h as compared to 17.3 km/ h from a 34 x 25 combination.
At the other end of the spectrum, top gear; 53 x 12 gives a speed of 56.1 km/h at 100 rpm when compared to the speed achieved in a gear of 50 x 12 at the same cadence which would be 52.9 km/h. The only option open to a compact crank user who wanted to gear up in high gear would be to use an 11 tooth cog which would give a 50 x 11 gear speed of 57.7 km/ h at 100 rpm.
What effect will this have on pedaling speed?
Using the examples above: let's assume that the 39 x 25 user is struggling a bit on a long steep hill at 75 rpm at 14.9 km/h. Using a compact crank, the same rider using the same 25 tooth lowest rear gear paired with a compact 34 tooth inner ring would be able to pedal at a much more sustainable 86 rpm for the same road speed. This means that the compact crank rider would be noticeably fresher. Alternately, the compact crank rider could pedal at the same 75 rpm in a 23 cog at 14.1 km/h keeping the 25 cog in reserve or push a bit harder at 15.4 km/h in the 21 cog keeping both the 23 and 25 cogs in reserve.
In top gear, the difference is that the compact crank user would have to pedal the 50 x 12 combination at 106 rpm to achieve the same road speed as the 53 x 12 user at 100 rpm.
What if the rear cogs are not same ratios?
It is possible to have roughly similar ranges of speed for cadence with compact and standard cranks depending on what rear ratios are chosen. For example, the table below gives speed at 100 rpm for a compact crank paired with rear ratios of 11 / 23 versus standard crank with 12 / 25. I have deleted the more extreme combinations; i.e. large chain ring / large rear sprocket and small chain ring / small rear sprocket.
11
12
13
14
15
16
17
19
21
23
50
61.2
56.1
51.8
48.1
44.9
42.1
39.6
35.4
32.1
34
38.2
35.2
32.7
30.5
28.6
26.9
24.1
21.8
19.9
12
13
14
15
16
17
19
21
23
25
53
59.5
54.9
51.0
47.6
44.6
42.0
37.6
34.0
31.0
39
40.4
37.5
35.0
32.8
29.5
27.6
25.0
22.8
21.0
What is the better option; compact or standard?

Which is best depends on what you want to do with your bike and what your strengths are. If you are riding flat to undulating terrain either option will work when paired with the appropriate rear cassette. If you are really strong rider then you will always be able to have a higher high gear with a standard crank because of the larger chain ring sizes.  Conversely, a compact crank will always have a lower low gear option for the same reason.

Is either more efficient than the other?

Yes. At some level the standard crank is more efficient at the same speed for cadence. This is because a standard crank uses a larger chain ring and larger rear cog than a compact crank does at the same speed for cadence.  In turn this means that the chain takes a less tight turn around both the chain ring and rear cog resulting in lower frictional losses. Equally, the chain is engaged over more teeth for the same road speed for cadence with standard cranks, meaning a longer wearing drive train.

This being the case, why do compact cranks exist?

The bottom line is that a rider will be able to climb a steeper hill on a compact crank than they will be able to on a standard crank.

How long have compact cranks been available?

The name and popularisation of the concept is relatively recent but Ritchey and Sugino ( and probably others) have been making 110 mm BCD road cranks for many years. In Sugino's case, at least 30 years; so the option has been available for some time.

If I want low gears, wouldn't I be better off with a triple chain ring crank?

Maybe. It depends on what you want to do with your bike and how strong you are. Triples for loaded touring have traditionally had a 1:1 low gear. That is a low gear where the chain ring and rear cog are the same size. In practice, a lower gear than this is achievable with the various gearing options out there but a triple has a wider Q factor than a double chain ring crank, which doesn't suit everybody. Also the additional complication of changing between 3 chain rings rather than 2 may be a problem for some. Assuming the same low and high gears, a triple doesn't really offer a lot more as most of the extra chain ring / rear cog combinations are duplicates or near duplicates of other combinations. What a compact crank does is offer a decent gear range with simplicity and ease of use when compared to a triple.

If you must have a really low, low gear or you are going to consider expedition touring, then a triple is still the way to go. If your bike usage profile is more varied and you do a bit of everything, including plenty of climbing, then a compact crank is a better bet.

So why would I choose a standard crank?

Because you don't climb alpine climbs and maybe you do a bit of racing or fast riding where seriously low gears aren't necessary. At normal solo training speeds on flat to undulating terrain a standard crank is probably a better bet in the sense that at typical flat road solo training speeds of 32 – 35 km/h, a standard crank can be ridden on the small ring with margin for speed increase without changing chain rings. On a compact crank, if the speed rises much above that example, it is necessary to do a 'double shuffle' from the higher gears (smaller cogs) combined with inner chain ring to the lower gears (larger cogs) on the outer chain ring. In practice, this can be worked around, but there is a difference.

Can I go racing with a compact crank?

Of course. Plenty already are. Just make sure that your high gear is high enough for the type or racing that you're planning on.

Are there any new developments in gearing?

Not with standard cranks. 53 x 11 is a realistically high high gear for a strong rider and in percentage terms, not many need that gear in reality. It's kind of like owning a car that will do 250 km/h in an area of 110 km/h speed limits. Nice, but not necessary.  SRAM's new Apex group offers a compact crank potentially paired with the option of a 11 / 32 wide range 10 speed cassette. Conceivably, this low gear could be used for loaded touring but in practice a triple is better because the jump between low gear and second gear is quite large. I suspect the target market is riders who want to occasionally ride Alpine style 20+ km climbs with moderate fitness levels.  IRD also make aftermarket 10 speed cassettes with 32 and 34 tooth lower gears than can, in some cases, be finessed to work with Sram and Shimano rear derailleurs even though they have smaller maximum cog sizes recommended by their manufacturer.

Another option if using Sram is that all Sram road and mtb rear derailleurs and 10 speed cassettes are interchangeable. That means you can potentially pair a pair of road Sram shifters with an mtb rear derailleur and use a compact crank for a low gear combination of 34 tooth chain ring and 36 tooth rear cog.

Will my life change if I buy a compact crank?

No. But you may be able to get up the hill that defeated you last time.

Will I be undergeared for racing or riding in fast bunches with a compact crank?

Put a cassette on that has an 11 cog and you should be fine.

Will there be any effect on my position if I switch from a standard crank to a compact crank or vice versa?

Providing crank length is the same, there are no implications for your position on your bike.

Note: Often, more specific answers to your questions can be found in the Comments below or in the eBooks section and FAQ page.

To learn more about bike fit products offered by Steve, click here.


Do you have a bike fit success story? Please go here to share.

Thank you for reading, return to the Blog page here or please comment below.

Comments are closed for most posts not part of the subscription blog. If you have a question or comment, Prime members can use the Prime Q&A.