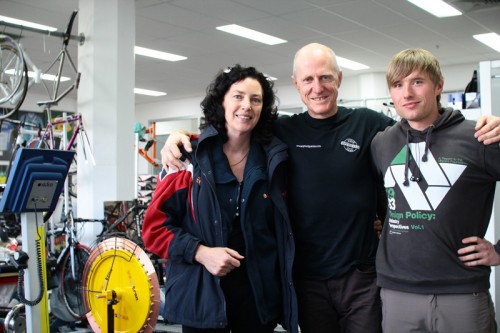 Meet Lukasz Szczesny (on right of pic).  Lukasz is from Poznan in western Poland.  He was in Sydney recently to fulfil his role as the physiotherapist for the Polish fencing team.  We get more than a few visitors coming in to see what we're up to but Lukasz has travelled further than most.  Lukasz  not only looks after fencers but treats patients for a range of issues with his major interest and focus being bike fitting.  His facility is Velolab where Lukasz performs a detailed off the bike  assessment of his clients before fitting them.  He tells me that his major client group are mtb riders but he sees roadies and triathletes as well.

I am constantly surprised by the amount of interest in bike fitting.  Lukasz is yet another example.  If you happen to be in Poland or a Polish rider looking to improve their performance, give Lukasz a call.

Note: Often, more specific answers to your questions can be found in the Comments below or in the eBooks section and FAQ page.

To learn more about bike fit products offered by Steve, click here.


Do you have a bike fit success story? Please go here to share.

Thank you for reading, return to the Blog page here or please comment below.

Comments are closed for most posts not part of the subscription blog. If you have a question or comment, Prime members can use the Prime Q&A.