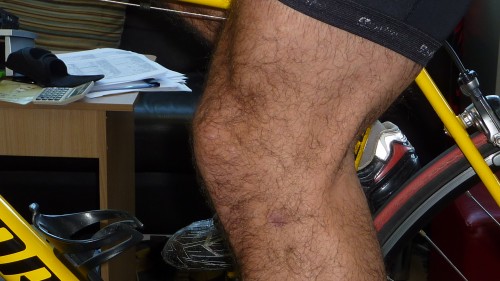 Above is an unremarkable left knee.  Have a look at the patella and then compare to the same gent's right knee below.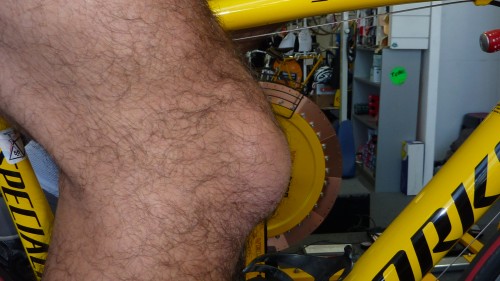 You can see how the patella protrudes. To be more accurate, it isn't protruding. The projection is fluid under the skin over where the patella is encapsulated in the patella tendon.  Below is what it looks like in action

This gents normal cleat placement is BOFOPA +10. The centre of the ball of the foot is 10mm in front of the centre of the pedal axle with shoe levelled between where the sole joins the upper under mid heel and where the sold joins the upper above the pedal axle. Early this year he replaced his cleats and inadvertently moved the right one 11mm further forward than BOFOPA +10. He then rode for several days in the Victorian Alps riding climbs up to 30kms long. 7 months on, it is still swollen.

I suppose the message is that if you have cleat position that you are happy with, ensure that it doesn't change at replacement time.

Note: Often, more specific answers to your questions can be found in the Comments below or in the eBooks section and FAQ page.

To learn more about bike fit products offered by Steve, click here.


Do you have a bike fit success story? Please go here to share.

Thank you for reading, return to the Blog page here or please comment below.

Comments are closed for most posts not part of the subscription blog. If you have a question or comment, Prime members can use the Prime Q&A.