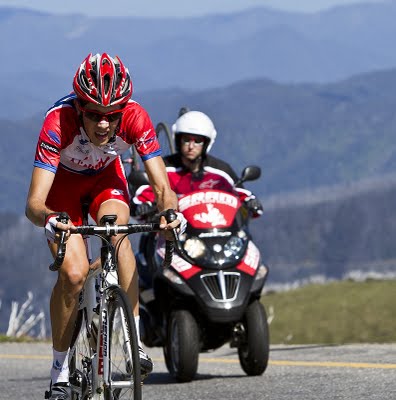 Firstly, the pic above has nothing to do with this post, it is just a pic of a rider I know, Ben Dyball, during the Mt Hotham stage of the Tour of Bright. Ben won the stage. The pic was taken by Victorian photographer and keen cyclist, Tony Reeckman. Posts without pics  can be boring and for reasons that will become obvious below, I don't have any pics to go with this post. So here's a pic and a thank you to Tony for permission to use it..
I had an interesting fit a few weeks back and have only just heard back from the rider. No name because his team numbers a bike fitting system as one of their sponsors. No name is a young  pro rider who's form hasn't been great this year.  Anyway, the team had sent him to various people and institutions for a 'fix' and apparently the  consensus resulting from this exercise was –
Short left leg
Power / torque deficit in  the left leg with the difference being something like Left leg 46%  /  Right leg 54% at AT with the disparity increasing during shorter, more intense efforts. When really fatiguing, Left low 40's % / Right high 50's %.
No name  performs okay, but when the pressure is on, he struggles and gets sundry aches and pains including:
Right knee patellar tendinitis
Lower back pain emanating from the left sacroiliac joint
Left side ITB niggles and irritations
Left hamstring origin tendinitis
and so on.

There was a difference in opinion about the best way to tackle the problem. Each of the 3 centres No name had visited took a different approach. Succinctly, they were:
1. Major position changes / cleats moved forward to ball of the foot over the pedal axle / a shim placed under the left foot
2. Minor position changes / cleats moved forward to ball of foot over the pedal axle / a shim placed under the left foot
3. Minor position changes / left cleat moved forward to ball of the foot over pedal axle while right cleat moved backwards in comparison, so that relative to foot in shoe, the right cleat was 9mm further back.

In each case, there had been a brief improvement in No name's comfort and equality of power production  between legs, but the situation deteriorated quickly leading him to change his position back to his original settings each time, or close to it. Then the process of endless fiddling would start again in an effort to find a workable solution.

No name's opinion of the 'fixes' were:
No.1 = poor general position / poor cleat position / shim under left shoe felt terrible.
No.2 = good general position / poor cleat position / shim under left shoe felt terrible
No. 3 = good general position / cleat position felt terrible on left leg /  power disparity worst of the 3.

When I saw No name, he was using more or less position 2 but with cleats moved all the way back on both shoes. He said this was close to his original position but slightly better. The effective cleat position of centre of ball of the foot 10mm in front of pedal axle on the left and 12mm in front of the pedal axle on the right for size 44 shoes as measured with shoe levelled between where sole joins upper at mid heel and where sole joins upper under fore and aft mid point of cleat mounting holes.

So after a detailed interview, the off the bike rider assessment started. Quite flexible generally, slightly tighter on the right side, minor degree of  left cerebellum motor control dominance (right side of body) and best of all, a SHORTER  RIGHT LEG!! Not the left leg that had been repeatedly identified as shorter and shimmed on and off for some time!
And a well hidden short right leg at that. On the bike it was more obvious. No name leant slightly to the right to 'protect' the shorter right leg, dropping his right hip and rolling it forward  a touch on each right side pedal down stroke.
If No name had been a weekend warrior, his aches and pains may have been less severe, all other things being equal, but he has to use his body really hard to earn a living on the bike. The slight forward twist of the pelvis under load on the right side was putting posterior pressure on the left sacroiliac joint which = pain. A seat height about 5mm too high was exacerbating the problem of an LLD that No name was subconsciously protecting at all costs. The twist / tilt to the right challenged the plane of movement of the left hip and was the source of the left side ITB pain. When really going hard, the hip drop on the right side increased,  forcing the  already overextended longer left leg to extend even further to reach the pedal = the left side hamstring tendinitis at point of hamstrings origin, the ischial tuberosity. The only possible reason that I could see for the right side knee tendinitis (patellar tendon) was that the right leg was doing more than it's fair share of work.

Solution: Moderate position changes: Seat dropped 5mm  / stem length shortened by 10mm  / angle of bars changed / brake hood position altered a touch.
Large changes to the feet though.  A 4mm shim under the right cleat / left cleat position of plus 10mm (centre of ball of foot 10mm in front of centre of pedal axle) / right cleat position of plus 9mm / eSoles with blue arch support module in left shoe and black arch support module in right shoe / 1 heel wedge on the right side and 2 heel wedges on the left side.

No name now tells me that the aches and pains have disappeared or reduced to insignificant levels and that his power balance between left and right is close to even and under really high loads, improves slightly to a fraction off 50/50.

Regular readers will know that I am always banging on about functional symmetry. The story above illustrates why. None of us are ever going to be perfectly symmetrical, but to best interact with a bike, we need to be as close as possible. I suppose the moral of this story if there is one is in many (not all) cases, a problem of pain or discomfort on one side can have its root cause on the other side. Ultimately No name was a simple fit problem well disguised. The longer I am in this game, the more that I find that the worse the tale of woe, often the simpler the solution. Not always, just a lot.

How had 3 different attempts at fitting No name wrongly identified a short left leg?
I don't know because I haven't spoken to anyone concerned, but to be fair to them, before No name got on the bike, the way that he presented nearly had me thinking  he had a short left leg too. On the bike was a different story; the right leg was obviously shorter. I assume the 3 previous fitters had all noted the left leg overextending and this had confirmed  their assessment of the 'shorter' left leg. I further assume no one had looked at No name from the rear while on the bike.  If anyone had, it would been obvious what the story was. Small leg length discrepancies like No name's can be notoriously hard to accurately determine. The best way is to 'ask' the subject's CNS the question off the bike and to see what the pelvis is doing on the bike. Functional pelvic asymmetries that occur on a bike, no matter what the cause, cause a ripple of compensations and sub compensations to flow outward to the periphery. This is what makes the rear view of what the pelvis is doing so important.

Note: Many more riders drop their right hip or sit with pelvis twisted forward on the right than do the left side equivalent. Please don't think that bit of info necessarily means a shorter right leg. In this case it did, in many cases it does not. It means an inherent bias towards 'protecting' the right side over the left, which can be seen in something like 90%  of the cycling population, at some level, great or small.

COMFORT + EFFICIENCY = PERFORMANCE 

Note: Often, more specific answers to your questions can be found in the Comments below or in the eBooks section and FAQ page.

To learn more about bike fit products offered by Steve, click here.


Do you have a bike fit success story? Please go here to share.

Thank you for reading, return to the Blog page here or please comment below.

Comments are closed for most posts not part of the subscription blog. If you have a question or comment, Prime members can use the Prime Q&A.