Meet Jerry Gerlich. Jerry is the skinny bloke standing between the good looking gents on either side. Jerry is from Austin, Texas, U.S.A. and works as a bike fitter at Castle Hill Cycles in Austin. Castle Hill Cycles is part of the larger Castle HIll Fitness gym complex owned by his best friend, the late Paolo Minissi.
Jerry and I have been exchanging emails since 2008 and met twice in 2009. Jerry visited here for a week and then we met up again at Interbike. Since we started talking Jerry has always made sense to me. Not that many people in the bike fitting world do, which is probably as much my fault as theirs. He has a degree in Kinesiology (which in Australia would be called Sports Science and Human Movement) and has worked as a personal trainer and bike fitter for many years with his major focus being the rehab'ing of difficult cases.
Cutting to the chase, Jerry has just finished 3 weeks of training here. Of the applications we get, less than 10% end with me saying 'yes'. Of those, a lesser number complete the 3 weeks successfully. Training here was as hard on me as it was for Jerry. Intense is a better word. I thought he was going to faint at one stage when he made a personal breakthrough with one of the techniques he learned, which not everyone has the aptitude to apply. I've been referring people to Jerry since not long after he and I first started talking. I've done this because Jerry is humble, knowledgeable and empathic. He's also a high quality bike fitter.
Jerry didn't come here to learn bike fitting. He didn't need to. Jerry came here to learn some of the outside of mainstream techniques that we use here. Those techniques are the difference between a good result and a great result for a fit client.
Jerry is open for business and has my personal recommendation. This is not something I give lightly. For anyone in Texas or contemplating visiting Texas, learn more about Jerry here.
Read Jerry's take on his visit here.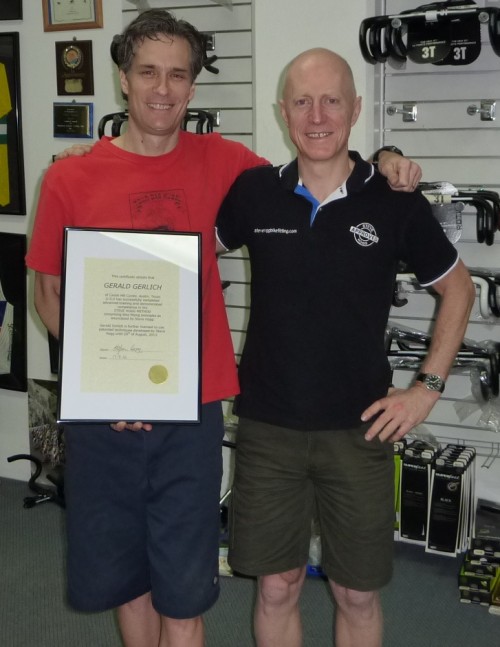 Note: Often, more specific answers to your questions can be found in the Comments below or in the eBooks section and FAQ page.

To learn more about bike fit products offered by Steve, click here.


Do you have a bike fit success story? Please go here to share.

Thank you for reading, return to the Blog page here or please comment below.

Comments are closed for most posts not part of the subscription blog. If you have a question or comment, Prime members can use the Prime Q&A.