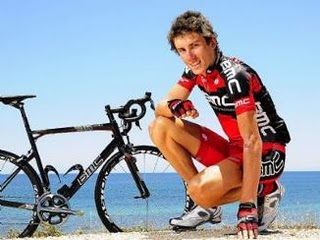 The Tour Down Under starts today. Follow rider no.135 Tim Roe. Tim rode for LiveStrong U23 last year and rode well enough to attract a contract from Cadel's team, BMC. This was despite having a left leg that he felt was not contributing as much as it should. In 2010 Tim visited several bike fitters in Europe and the U.S. before finding his way to us late in the year on the recommendation of HTC's Hayden Roulston. Tim tells me that his left leg feels 'normal' now. Tim is motivated, pleasant to deal with and excels at climbing and TT'ing; a stage racer in the making. Probably why his entire 2011 program is stage races. He nearly broke the shop record on our trainer despite having been off the bike for the previous 6 weeks with a fractured clavicle from a Tour de l'Avenir pile up.

Note: Often, more specific answers to your questions can be found in the Comments below or in the eBooks section and FAQ page.

To learn more about bike fit products offered by Steve, click here.


Do you have a bike fit success story? Please go here to share.

Thank you for reading, return to the Blog page here or please comment below.

Comments are closed for most posts not part of the subscription blog. If you have a question or comment, Prime members can use the Prime Q&A.