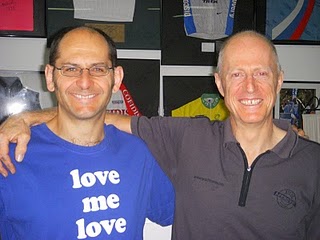 The good looking gent on the left is Scherrit Knoesen; pronounced Sherritt K noo sen. Scherrit and wife Corinne own and operate The Bike Whisperer in Newbury, England.

Their biz is similar to ours. The Bike Whisperer's 3 strands of biz are bike fitting, mechanical and coaching. We substitute custom bikes for TBW's coaching. They're the only couple involved in the bike biz that I've met that each have an MBA. Scherrit came to the bike biz after a career in finance, owning a haulage company, then coaching until he eventually realised that happiness comes to those who fit bikes.

Scherrit is probably the busiest bike fitter in Europe seeing 350 – 400 people a year for complete fits and a similar number for tweaks or check ups. This puts him in rare company.  We've been communicating via email for several years and I've become impressed with his knowledge and attitude to fitting.

I get frequent requests for training which I'm happy to contemplate if the fitter is intelligent, experienced, competent, humble and prepared to visit us for several weeks, or to cover the costs of me visiting them.  Humble, by the way, doesn't mean tugging the forelock; it means understanding that you don't know everything.  This is a prerequisite for learning anything about any topic.  So far all enquiries for fit training have faltered because the candidates didn't meet one or the other of those stipulations, or distance / cost was too great.

So, Scherrit has done all that was required of him for the 2 x long hour, 6 day weeks that he needed to become proficient in the visual cues and neuromuscular testing that forms the core of what we do here.  This is where we differ from the rest.  I haven't taught Scherrit how to fit.  I didn't need to. Scherrit was already a competent fitter; no, more than competent; but now leaves with extra skills that will enable him to do a still better job.  He is the only person out there who can truthfully say that I've trained him and who has a certificate to prove it.

So, if you need help with your position and live in or near the U.K, contact Scherrit and tell him "Steve sent you."

Learn more about Scherrit here.

Note: Often, more specific answers to your questions can be found in the Comments below or in the eBooks section and FAQ page.

To learn more about bike fit products offered by Steve, click here.


Do you have a bike fit success story? Please go here to share.

Thank you for reading, return to the Blog page here or please comment below.

Comments are closed for most posts not part of the subscription blog. If you have a question or comment, Prime members can use the Prime Q&A.