How to determine how far back a rider should have their seat on a road bike?
If you have a look at a lot of cycling related literature, time and again the answer given is what our American friends call KOPS, which is an abbrevation for Knee Over Pedal Spindle (I prefer axle to spindle, but never mind).  However, what is meant by this is not what KOPS says.  What is meant is Tibial Tuberosity Over Pedal Axle.  The tibial tuberosity is the bony bump below the patella (knee cap) to which the patella tendon attaches.  So instead of KOPS, Tibial Tuberosity Over Pedal Spindle (TTOPS) or TTOPA would be a more accurate acronym, though it doesn't have quite the same ring to it.
The idea is to have you set your seat at the distance behind the bottom bracket that will allow you to achieve KOPS / TTOPS or whatever you want to call it with foot level and crank horizontal and forward. Simple isn't it?
Simple doesn't matter as I would tell you that  KOPS / TTOPS has no foundation anyway. Like a lot of cycling lore, KOPS / TTOPS has achieved validity by repetition. It is the linguistic equivalent of Newton's First Law – An object's speed and motion will stay the same unless acted upon by an outside force. In this case KOPS is considered valid only in the absence of a contending force (point of view). So here's a contending point of view.
First a question. If anyone reading is a firm believer in KOPS /TTOPS, can you explain to me why achieving a particular and specific relationship of one body part to the bike is so all important that it outweighs the relationship of the whole of body to the bike?
I've never heard a convincing explanation, so if you have one, feel free to contribute.
Here's my take for what it is worth.
Every action on a bike starts with a signal from the CNS (brain and / or spine) that is in major part detemined by a constant flow of proprioceptive feedback from the peripheral nervous system. This process is fundamental. Nothing precedes it in importance. No muscle can fire accurately, precisely and in the right sequence (of a motor pattern) without this process. If the signals don't reach the muscles, the muscles don't work. To me that means that to perform optimally on a bike we need to keep this in mind and try to optimise our neural function within whatever constraints are imposed upon us by our genetic heritage, developmental idiosyncracies and current structural condition. So how to do that?
Firstly, some background. Influential Czech sports physician Vladimir Janda (click on the link for the best overview I've read of Janda's life) grouped external muscles into two categories, Postural Muscles and Phasic Muscles. There is still some controversy about the classification but more about detail than the big picture. As a generalisation, the postural / phasic split is a good one. Muscles that act posturally  are muscles whose primary purpose is to resist gravity and allow us to maintain a position (posture) in space. For example, on a bike. Whereas muscles that act phasically have the primary purpose of generating power for movement. It is important to note that some postural muscles, like the hamstrings and calves act phasically on a bike because they are relieved of the need to help maintain a standing posture such as when walking.
So what has this got to do with seat set back?
Everything.
Postural muscles are given higher priority by the Central Nervous System (CNS) than Phasic muscles for  good evolutionary reasons.  A human body needs to be able to maintain a posture before it can move effectively. For instance, walking would not be possible if we could not maintain an upright position. If performance is the goal when cycling, we need to find a way to maximise the enlistment of the lower priority, power producing muscles that act phasically. The only way to do this is to minimise the need to engage the higher priority postural muscles that allow us to hold a position on a bike. How to do that?
The only way possible on a UCI legal bike is to have our seat setback the minimum distance behind the bottom bracket that allows the rider  to cantilever their torso out from their pelvis without excessive enlistment of upper body muscles, arms and shoulders to support the weight of the torso. The position should be largely self supporting. That way the rider can devote as much effort as possible to propelling the bike and minimal effort to maintaining a position on  the bike.
Unweighting of the upper body is desirable for another reason . The 3 limiting inputs to the body  for sustained performance on a bike  are Food, Water and Air. Of the 3, a restriction of the ability to breathe will make it's presence felt earlier than the other two at high intensity. There are something like 20 muscles of the torso that we use to breathe with. Of those 20, 18 have postural implications. By that I mean that those 18 can be used to breathe, but to do so fully and deeply,  they need to be able to relax. This isn't possible if they  are being used to bear weight, resist pedaling forces or to maintain stability, which in turn means that breathing effficiency is compromised and either power output drops, or the duration that the rider can sustain a given output drops.
Just how far the seat will need to be set back to achieve to largely unweight the torso will vary from person to person. It will depend on the following factors:
1. Effective torso length
2. Pedalling technique
3. Functionality
To explain these briefly one at a time.
With the caveat of "all other things being equal" (which they never are but it serves well for the purpose of explanation)
Effective torso length
The longer the torso, the more weight the rider is projecting forward from the seat, which means that the further back the rider needs the seat set back to counterbalance and support the weight of the torso without requiring sigificant effort of the arms, shoulders and upper back to do so. A measurably long torso doesn't necessarily mean a long 'effective' torso. What will determine 'effective' torso length is the ability of the rider to extend their spine and rotate their pelvis forward on the seat. For example a rider with measurably short torso may have good ability to extend (lengthen) their spine and flatten their lower back with pelvic rotation, meaning they are lengthening their 'effective' torso length. Conversely, a rider with short legs and long torso may be tight in the hips and lower back and have a pronounced arch in their spine while riding as viewed from the side. This will shorten their 'effective' torso length. There are a million permutations and every case is individual.
Several examples are below. Each of these riders have the same measurable torso length, but because of differing  degrees of flexibility in hips, lower and upper back, each has differing 'effective' torso lengths.
Short 'effective' torso length below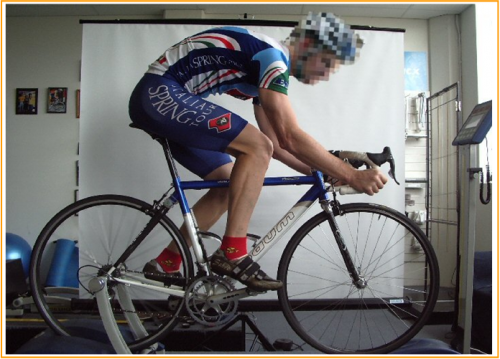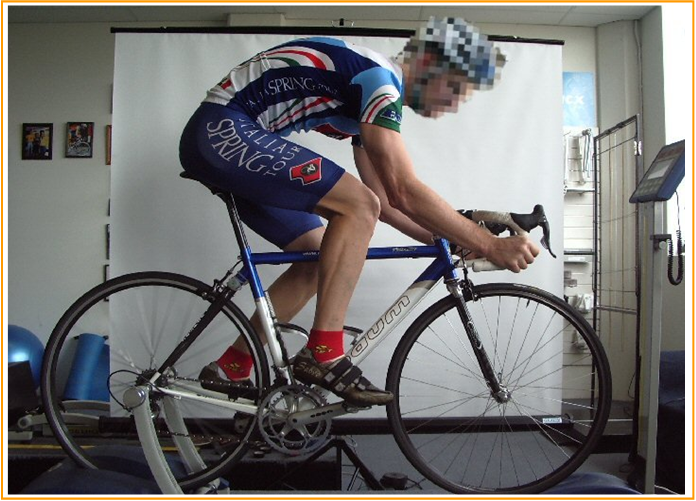 Normal 'effective' torso length below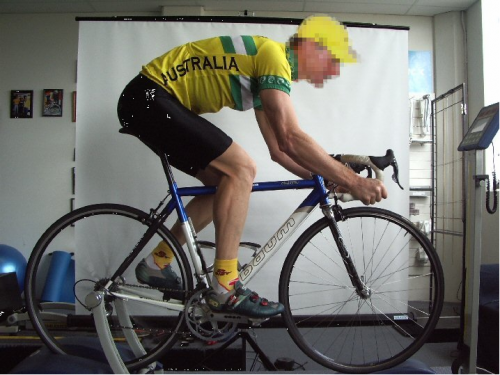 Long 'effective' torso below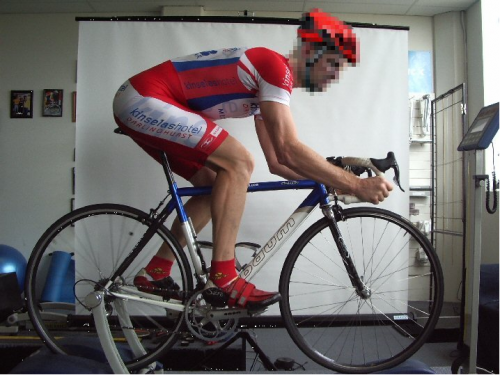 Pedaling technique
All forces work in 2 directions; action and reaction. Newton showed (and I'll paraphrase) that for every action there will be an opposite and equal reaction. Applying this to cycling means that if your natural pedaling technique is that of a heel dropper, you are pushing yourself back in the seat with every pedal stroke. The more force you apply to the pedals, the more you will push yourself back against the seat and the more you will tend to unweight the upper body. Translation:  Heel Droppers don't need to have their seats set back as far as their hypothetical, identical Toe Dipper  twin (all other things being equal) At the other extreme of pedaling technique, Toe Dippers are tending to tip their weight  forward with every pedal stroke and the more force applied to the pedals, the greater this tendency. Translation = the Toe Dipper will need to have their seat  further back than their hypothetical Heel Dropping twin to unweight the upper body (all other things being equal)
Functionality
This is a biggie. If you've read this far I hope you can see the potential for your performance in having a largely unweighted upper body. One limiting factor that only you can do something about is your functionality. You can have the the best bike position possible, but if you are inflexible and dysfunctional beyond a certain point, you will not be able to relax your upper back, shoulders and arms because you are inherently unstable. Too many cyclists have hips, lower back and pelvis that work as a unit rather than (more or less) independently. That means that moving the legs during a pedaling motion causes excessive movement in the pelvis and lower back. On a bike, the rider will autonomically (below conscious thought) do whatever it takes to attempt to stabilise their pelvis. Even with a good position, in the absence of reasonable functionality, the rider will use the only other mechanism open to them  to attempt to achieve on seat stability;  excessive enlistment of the arms, shoulders and upper back. This can only come at the cost of breathing efficiency and performance. Any unnecessary tension in the upper body is robbing blood flow, heart beats and oxygen from the legs that propel the bike. So for all you riders who shy away from stretching and know you are as stiff as a board, there is a performance benefit in being reasonably flexible and reasonably functional.
Point of balance
It is time to cut to the chase. Rather than be concerned with determining how you pedal, or what your 'effective' torso length is or how functional you are; here's the simple method. You are a given, at least in the short term, so you have to work with what you are capable of at the moment.. Mount your bike on an indoor trainer, warm up thoroughly and when ready for it, start a sustained effort at just below TT pace, say 85% of max heart rate at 95 – 105 rpm. You need to be working hard but not dying in the process. Once in the swing of things, place your hands in the drops and then, when ready, swing your arms back by your hips.  Ideally you should be able to teeter on the point of balance without arching your back, raising your torso or toppling forward without control.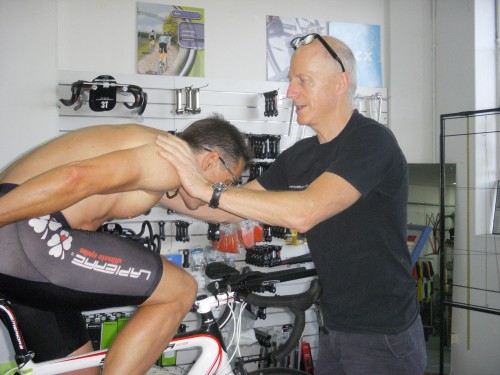 This is an imperfect explanation because much of this will depend on how functional you are. Self knowledge is a wonderful thing and most riders don't realise just how dysfunctional they are. For those who are tight and riddled with reciprocal inhibitions (most) you are looking to achieve the best compromise possible. You may not be able to hold the 'arms back' position for any length of time but you should feel like there is little pressure on your hands when you are riding hard in the drops. Cleat position and bar height and reach also play a  part in what you will be able to achieve. Even the truly functional should only be able to hold the balance point with (minor) effort. My feeling is that the rider should be sitting so that their centre of gravity is a fraction forward of that which allows perfect stability during the 'balance test'. If they are far enough back to be rock solid on the seat with arms swung back, then they are either a high function freak (they exist) or have too much seat setback which will mean that the transition to an off the seat position (like sprinting or climbing) involves a ponderous shift of body weight. Additionally, too far back gives enormous leverage on the flat or on slight gradients but limits the riders abilities to pedal at high cadence. On moderately steep hills (gradients effectively increase seat setback) the rider who is too far back will not be able to push forcefully on the pedals through to the bottom of the pedal stroke with power and control and will need to get off the seat prematurely. Ideally the rider should be stable and need their arms, but only just need their arms. They should be poised for a near instantaneous transition from on seat to off seat for a sprint effort or off seat climbing effort as necessary.

The other benefit of the balance point approach is that it simplifies how to set your self up with regard to your  functionality. If you have a tight back and cannot  extend well, your effective torso length is shortened, you don't project as much weight forward as you would do with better flexibility, in turn meaning that your centre of gravity (COG) is further rearward and you need less seat set back to maintain the balance point. This minimises lumbar flexion and reduces the potential for back pain. If you are flexible and can extend your torso well, then the extra weight you project forward means your COG will be projected further forward and so more seat set back is required to maintain the balance point, This reduces pressure on hands, arms and shoulders, allows fuller breathing and if done correctly, still doesn't load the low back because your higher degree of function means that you can bend well without excessive lumbar flexion.

Think of your arms as relaxed props with the emphasis on relaxed. They are necessary, but the harder you ride on the flat, the less load they should be supporting. The job of the upper body and arms is NOT to try and help you drag your bike down the road………..though there are plenty of attempts out there in bicycleland to do so. During a hard effort, if you are reasonably functional, then in simple terms, from the hips down is used for power production, the torso is used for breathing and there should only be as much tension in the arms as is necessary to steer and control the bike. Which shouldn't be much. That description slightly oversimplifies the matter but I hope it makes sense to you. It makes far more sense to me than KOPS / TTOPS because it helps optimise the relationship of the entire body to the bike, not just one limb segment.

What do YOU think?

Note: Often, more specific answers to your questions can be found in the Comments below or in the eBooks section and FAQ page.

To learn more about bike fit products offered by Steve, click here.


Do you have a bike fit success story? Please go here to share.

Thank you for reading, return to the Blog page here or please comment below.

Comments are closed for most posts not part of the subscription blog. If you have a question or comment, Prime members can use the Prime Q&A.