2.

FOOT CORRECTION part 2: WEDGING
 Note:  Prior to reading this post, it is advisable that you read Basic Premise and Foot Correction part 1: Arch Support.
Having read the 2 posts mentioned above, you will understand the necessity for foot correction and the role that arch support plays.  Arch support allows tension  changes  in the plantar fascia while pedaling which is the first and most important step in having the CNS recognise the feet with perfect clarity. The consequential benefits of improve ability to finely control the pedaling action should be obvious. The individually correct degree of arch support and when necessary, wedging, subtly affects the relative alignment of all joints of the kinetic chain up to and including the hip.
When this is done perfectly, proprioceptive clarity from the feet is assured.  Optimising proprioceptive clarity from the feet is like a "yes" or "no" answer to a question.  There are no shades of 'right or wrong'.  Either proprioceptive clarity is achieved or it is not, with the margin for error being 1 degree of correction (canting) too much or too little.
The difficulty in writing about this  subject is that I use method of determining the CNS response to altered inputs from the feet (which is what foot correction does) that is patented.  Applying the method requires sensitivity and skill which can only be taught in person with 3 – 4  of weeks of training under close supervision being about the minimum time required to pick up the basics of  process.  Which still allows me to say this…
Currently there are 3 brands of wedging available:  Bike Fit Systems and Specialized  and our own.  BFS developed the cleat wedges in 3 bolt, Speedplay 4 bolt and Mtb 2 bolt versions.  They also were the originator of an in shoe wedge that BFS now called the ITS (In The Shoe) wedge.  The original name was 'Sole Power' or something similar.
Specialized have a similar concept wedge to the BFS ITS and have a cleat wedge as well.  I've only seen 3 examples of the Specialized cleat wedge as it is relatively new to the market and I'm unsure if it is still available. I suspect not..  Of the 2 brands and various models, I will not use Specialized in shoe wedges because they present a Material Challenge to the nervous system. More info about Material Challenges can be found here.
I manufacture  heel wedges but more about that later.
A Material Challenge is when a product is composed of materials that have a negative effect on proprioceptive clarity.  It appears to me that Specialized copied the original BFS in shoe wedge without fully understanding the implications of their choice of materials.  What I'm saying is that X number of Specialized in shoe wedges provide the same degree of cant to the foot as X number of BFS in shoe wedges or X number of our heel wedges, but only at the cost of reducing the Central Nervous System's (CNS) ability to 'hear' the feet.  Well, they're not alone as the Material Challenge explains.
If you own any of the items mentioned in the  Material Challenges post or use Specialized in shoe wedges, by all means wear them or use them if that is what presses your buttons.  But I would suggest that you don't wear them while riding a bike if long term injury free performance is your aim.  If you use these items, will you become injured?
In any individual case, only time will tell.  Material Challenges are a 1 percenter. Your susceptibility to injury and the volume and intensity of your training play a large part in this.  What I am saying is that any using any product that presents a Material Challenge to the nervous system means that you are metaphorically skating on slightly thinner ice than need be.  Whether the ice breaks resulting in injury cannot be known in advance.  But why heighten the risk
This leaves BFS wedges or our heel wedges as the default option.  BFS wedges come in two varieties:
1. Cleat wedges are designed to be placed between cleat and sole of shoe (3 bolt road and 2 bolt mtb type) or bolted within the layers of the cleat (Speedplay 4 bolt type)
or
2. ITS (In The Shoe) wedges which are fitted under the forefoot of a cycling shoe insole.
Steve Hogg Heel Wedges are fitted into the heel cup of a cycling shoe underneath the insole.
The first thing you need to wrap your head around, is that in many cases, each of these wedges is correcting the rear foot, directly or indirectly. In some cases cleat wedges and ITS wedges are correcting the forefoot directly.To talk about this more, I need to dwell on a commonly misunderstood term:  Forefoot Varus.  As it is used within cycling circles, the term and position is inaccurate though the method of correction using forefoot wedges can be effective when placed inside or under a cycle shoe.  True Forefoot Varus is rare and after speaking to several podiatrists with cumulative clinical experience of more than 70 years, they tell me that they have only seen a handful of true forefoot varus foot types.
To explain: Forefoot Varus is when the midtarsal joints are fixed.  No rotation into pronation or supination occurs around the long axis and it is fixed in a supinatory position.  Therefore the foot in a standing position or in a closed kinetic chain will pronate the rearfoot, normally to its end of joint range; that is 13 to 17 deg of heel eversion.  This foot type always has an extremely low arch and the medial malleolus and medial side of the ankle complex is very prominent.  However, it is easy to create a forefoot varus in a normal foot (with a flexible midfoot) if you do not load the lateral column (4th and 5th metatarsals and cuboids) due to pronation of the foot. This loading represents the force from the ground or from applying force to a pedal.
This is why cleat wedges or ITS wedges can work. They elevate the inside edge of the foot and reduce or resolve load induced pronation. .
In a cycling shoe what is being corrected in many cases,indirectly via a cleat wedge or in shoe forefoot wedge; or directly via a heel wedge is rear foot varus.  The forefoot wedge, whether under cleat or inside the shoe corrects the rear foot because the heel is not fixed to the ground.  The important thing here is that if you try to correct rear foot varus by using forefoot wedges in normal walking gait when the heel is fixed on the ground, the midfoot will pronate around its long axis and damage joints by jamming them together.  This is not the case with varus wedges in cycle shoes or underneath a cleat as the heel is not fixed to the ground and is in a  more or less open kinetic chain.  However, it may be preferable when using an in shoe forefoot wedge to add a rear foot wedge as well, especially if there is a large amount of Tibial varum.
With that understanding, it becomes apparent that wedging to correct the foot can be applied in 3 different locations or in any combination of them:
1.  Forefoot wedging using BFS ITS wedge
2.  Cleat wedging using BFS cleat wedge(or if using SPD mtb pedals, an option is the BFS VV1 cleat)
3.  Heel wedges placed under the heel of the shoe insole.  (pic below)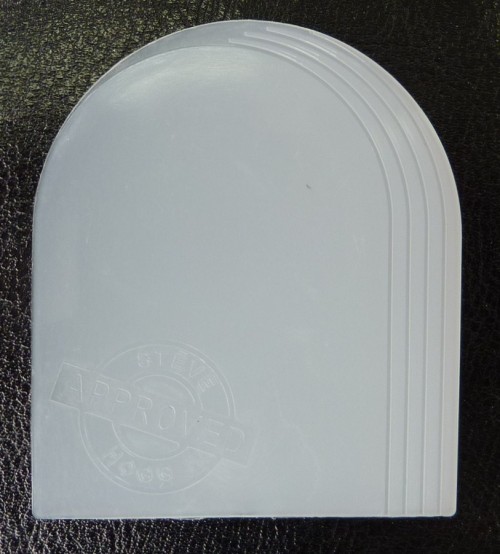 A word of caution.  Regular readers will know that my view of foot correction in general is that optimal foot correction (wedging and arch support) is the only way to ensure that the proprioceptive feedback from the feet is heard loudly and clearly by the cerebellum while cycling. This in turn ensures the highest level of neuromuscular coordination and the lowest risk of developing overuse injuries because there is less need, or no need to compensate for lack of feedback.
The research involved in developing the patented method of foot correction that the Team and I use tells me that a forefoot inshoe wedge (ITS wedge)  will directly correct the forefoot if that is where the problem is, while at the same time  indirectly correcting the rearfoot. This happens because altering the alignment of the distal element of the cycling kinetic chain has an impact on more proximal elements as well.
In contrast a cleat wedge alters the alignment of the entire foot and so has a direct effect on both forefoot and rear foot.
However, if a rear foot issue is corrected indirectly using inshoe forefoot wedges, or is corrected directly using a cleat wedge but only by altering forefoot alignment as well, then  over time;  a week, a fortnight or occasionally only a few days, the proprioceptive feedback from the feet becomes muted and is treated as background noise by the cerebellum. This happens because though wedge numbers may be optimal, wedge placement is not! This leaves the rider mechanically corrected but less well coordinated than would otherwise be the case.
Furthermore, a stack of time and experience with wedging has caused me to form the view that around 70%  of riders need heel wedging, either alone or in combination with cleat wedging. Around 30% need cleat wedging alone. There is a tiny, tiny minority that are best served with an inshoe forefoot wedge. Often, and assuming Level 2 arch support is in place, I find someone that doesn't need any wedging for one foot (most often the left) and more rarely, a client who doesn't need wedging for either foot.
I prefer to use BFS ITS wedges as a diagnostic tool to help determine the number of wedges necessary. The value of an inshoe forefoot wedge is that it is a shotgun, not a stiletto. Because it is over the point of contact with the pedal, ITS wedges correct the forefoot directly and have an indirect effect on the rear foot, it is easy to determine wedge numbers. Then a determination has to be made as to where to wedge.  The key thing to understand here is that cleat wedges are also like a shotgun. They affect forefoot and  rear foot in terms of optimising neural feedback; at least temporarily.  Once the correct number of wedges is determined using in shoe wedges, then BFS ITS wedges equate one for one with the same number of BFS Cleat Wedges or Steve Hogg Heel Wedges in terms of corrective effect.  This demands further explanation and I'm not totally satisfied with what I'm about to say for reasons that I'll explain; so if any one cares to contribute their 2 bob's worth, please feel free.
A BFS ITS wedge has a taper of 1.5 degrees whereas a BFS Cleat Wedge or one of our Heel Wedges has a taper of 1 degree, yet they work one for one.  Why?
The best explanation I've got is that as the BFS ITS wedge is correcting the heel indirectly, to do so it requires any movement in the joints of the midfoot to be taken up before the corrective effect can reach the rear foot via a torsional load.  And that 50% more taper is needed per wedge for this indirect rear foot correction to achieve any given degree of cant of the rear foot as when using the same number of Cleat Wedges placed under a cleat (which cants the entire foot) or when using a Heel Wedge placed under the heel (which cants the heel directly).  The hole in this explanation which occurs to me and which has been pointed out to me several times by others as well, is that there has to be a limit to the amount of free movement in the joints of the midfoot, and that once that is taken up, any increase in ITS (1.5 degree taper per wedge) forefoot wedging should not be comparable to the same increase in number of Cleat Wedges (1.0 degree taper per wedge)…  Yet, proprioceptively speaking at least, it is.
Which is the best location for wedges?  A brief summation of my experiences follows:
Forefoot wedging using BFS ITS wedges
Pros
Quick and easy to change wedge numbers to assess the effects of wedging and to determine the ideal number of wedges needed.
On rare occasions needs to be used for forefoot correction or as part of forefoot correction when  indicated.
Cons
Takes up often limited vertical space in the toebox, potentially causing hot foot and discomfort if more than 1 is used. Often this first becomes apparent on long rides such as Audax brevets and 12 and 24 hour mtb racing.
Poor choice if need to walk any distance in cycling shoes; i.e; in touring or mtb shoes for reasons outlined earlier in this post.
Cleat Wedging using BFS Cleat Wedges
Pros
Corrects fore foot directly but cants the entire foot.
Indirectly corrects the rear foot.
Doesn't take up any space inside shoe.
Cons
If multiple 3 bolt cleat wedges used under cleat on carbon soled shoes, slippage of the cleat can occur unless cleat bolts torqued tightly and checked regularly.
A similar problem occurs if using multiple 2 bolt mtb cleat wedges.  Mtb cleats rely partly on projections on the underside of the cleat biting into the sole of the shoe for security against movement.  If more than 1 mtb cleat wedge is placed under an mtb cleat, the projections do not bite into the shoe sole and the risk of cleat slippage increases markedly.
Heel Wedging using Steve Hogg Heel Wedges.
Pros

The most accurate and neurologically robust method of  rear foot correction.
Avoids cleat slippage issues on 3 bolt and 2 bolt cleats.
Cons
A practical limit to how many can be fitted under heel before fit of heel in heel cup of shoe is compromised.  Usually 3 presents no problem when fitted this way; 4 can be a problem in smaller size shoes and 5 only works well in large shoes without compromising fit. This is rarely an issue because the vast majority require between 0 and 2 heel wedges when used in conjunction with Level 2 arch support.
Of no help in the minority of cases where forefoot correction only is needed.
Which still leaves the question of how to determine the correct number of wedges, whatever their location?
BFS sell a product called the ForeFoot Measuring Device (FFMD) ( Specialized used to make something similar too) which quantifies the relative static alignment of forefoot to rear foot.  This  company publishes recommendations which I've taken the liberty of cutting and pasting below:
BFS don't really understand the need for arch support and as standalone recommendations, the table above is useless.  However  if arch support has already been fitted at Level 2; mildly intrusive then the recommendations are mostly within a plus or minus 1 wedge range. For around 15 – 20 % of riders, they're not even close

I need to explain why the BFS recommendations aren't as accurate as they should  be.

1.  The FFMD measures relative alignment statically, i.e; without load applied.  Usually the functional picture of what the foot is doing changes when load is applied. One mistake that many fitters make is to take a reading of say, 20 degrees and think "I need to use 3 wedges".  Have a look again at the table.  For a 20 degree reading it says "Up to 3 wedges" NOT "Definitely use 3 wedges".  What the FFMD is measuring is the static relationship between the plane of the forefoot and plane of the rear foot.  There is no close relationship between this and the amount of correction needed to optimally correct the foot  particularly when Level 2 arch support is used.  For approximately 80% of cases my test gives results similar to the FFMD recommendations plus or minus 1 wedge, which is frankly, too much of a margin for error for my liking.  The other 20% vary, sometimes substantially.  The variance tends to be more common on the left foot than the right foot with the left foot usually needing less.

Why?

Because I'm testing the entire kinetic chain under load and most people (no correlation with handedness) favour and protect their right side on a bike. In the sense that if there is a challenge to their position (and there always is), the patterns of compensation that have evolved will typically protect the right side to a greater degree than the left side.  Any thoughtful bike fitter will have noted that there are more people complaining of left knee pain on a bike than right knee pain.  This is why.  More often than not, the rider autonomically protects the right side from a challenge but pays a price for this on the left side.  A lesser frequency and degree of intervention often neeessary on the left side is a product of this general pattern of globally compensating for the 'favoured' right side.  Do this on and off the bike for a life time, particularly when young, and there will be morphological differences between left and right side, not only in the in feet, but in how the body functions on each side that need addressing with the right foot more often than not needing more wedging than the left.  Note that I say "general pattern" not "universal pattern" as there are plenty of exceptions; probably 5 – 10%.

2.  There is always an individual component to each case.  Wedging affects the relative relationship of the entire kinetic chain up and including the hip, whereas the FFMD measures the foot in isolation.  Don't be scared to depart from the table recommendations, but have a reason for doing so; particularly if the reason is "X number of wedges in combination with arch support makes my feet feel more stable on the pedals on both sides and my knees seem to track better."

In summary, the FFMD is a useful tool but don't blindly follow the recommendations.  Think, observe and feel.

So if you want a simple starting point, play the averages and once you have sufficient arch support, use the table above to determine wedge numbers.  Is this right?

In most cases, of course not, but it is somewhere to start.  The right number of wedges (assuming sufficient arch support is already present) should make each foot feel like the pedaling pressure is spread evenly across the foot. In more than  99% of cases, wedge placement should be such that the thick side of the wedge(s) faces the crank arm.

Be aware too, that fitting wedges, whatever the location of the wedges, can affect the rotational angle that feet sit on the pedals.  So after each addition or subtraction of wedge numbers, make sure that the angle of your cleats allows your feet some free rotational movement either side of that point.

Proprioception is a curious thing. During your wedging experiments, you will often find a combination of wedge numbers between feet that feels fantastic…  At least initially, and then feels less wonderful over time.  Why?

Because your body is responding to a change in the quality of proprioceptive stimuli and initially, this is like raising your voiceloudly enough to be heard above the chatter at a party.  If you don't have the degree of wedging or the placement of wedging spot on for each side, then over time, that better (for the moment) but not perfect change in the quality of stimuli from the feet drops back to "background noise" level.

Not every one can visit a member of the Team to accurately and individually determine what wedging numbers and placement to use. Other than that, the best method to use for yourself can be found here   

For a more accurate and simpler method again, see here

Foot Correction series: Part 1 – Arch Support and Part 3 – Shimming

Note: Often, more specific answers to your questions can be found in the Comments below or in the eBooks section and FAQ page.

To learn more about bike fit products offered by Steve, click here.


Do you have a bike fit success story? Please go here to share.

Thank you for reading, return to the Blog page here or please comment below.

Comments are closed for most posts not part of the subscription blog. If you have a question or comment, Prime members can use the Prime Q&A.