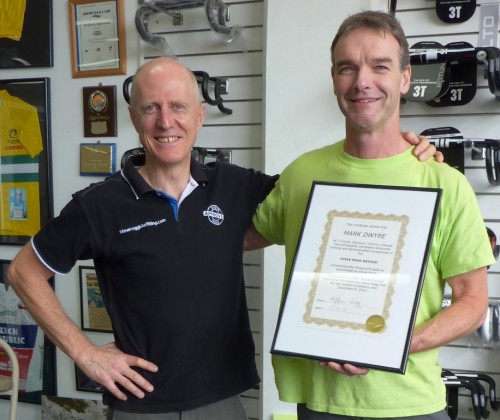 Mark Dwyre, the better looking of the two above (the one with hair) is an interesting bloke. He's smart but quiet and unassuming about it. As a junior Mark won Provincial championships and got a silver medal in the TT Nationals before leaving cycling for married life and a career in hand made custom furniture. The cycling bug, while in remission, was still there and another outbreak occurred in 1995 with Mark opening T.I. Cycle in Gananoque, Ontario, Canada. The 'T.I.' in the name stands for the Thousand Islands as this area of southern Ontario (Canada) and northern New York (U.S.A) is known.

T.I. Cycle employs five staff including local legend "The Grumpy Mechanic". Mark is the owner and handles bike fitting. Having Mark here for three weeks was a strange experience. We would assess the same rider on and off the bike, observe the same issues and suggest the same solutions or potential solutions. It was uncanny but invigorating to meet someone who is as on top of bike fitting by direct observation as Mark is.

In the past Mark has trained in a popular 'system' that he discarded quickly. His reasoning "All my fittings are guaranteed. A guarantee soon showed that stuff didn't work". So he went looking for what worked and through a lengthy trial and error process came to similar conclusions to me. While checking Mark out prior to having him come here, I found one of Mark's happy fitting clients here. Mark is now on top of the pelvic alignment and patented techniques to optimise foot correction that he came here to learn. He can now do an even better job.

Mark has my unqualified recommendation and learn more about here.

Read more about Mark's visit here.

Note: Often, more specific answers to your questions can be found in the Comments below or in the eBooks section and FAQ page.

To learn more about bike fit products offered by Steve, click here.


Do you have a bike fit success story? Please go here to share.

Thank you for reading, return to the Blog page here or please comment below.

Comments are closed for most posts not part of the subscription blog. If you have a question or comment, Prime members can use the Prime Q&A.