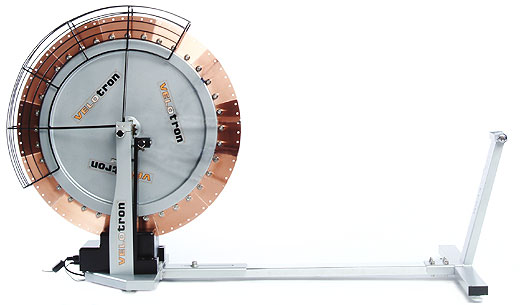 I've just finished a 2,000 km drive.  I don't particularly like driving but in this case there were 2 incentives.  The first incentive was the trip to picturesque Bright for the Alpine Classic.  If you have a fascination with hills, the Alpine Classic is the event for you.  This link shows the 200km course profile, 98 kms of which is uphill (and 98 kms downhill!).

http://www.cyclingprofiles.com.au/HTM/Audax/REC_ADXAAC200.htm

The second incentive and the reason for the further trip to Melbourne and back was to pick up the Velotron pictured above. See http://www.racermateinc.com/velotron.asp for enough info to explain why I wanted one.

My aim is to use the Velotron as an aid to fitting. I'll need a few weeks to learn how to drive it and then I will post some thoughts regarding it's use.

Stay tuned…

Note: Often, more specific answers to your questions can be found in the Comments below or in the eBooks section and FAQ page.

To learn more about bike fit products offered by Steve, click here.


Do you have a bike fit success story? Please go here to share.

Thank you for reading, return to the Blog page here or please comment below.

Comments are closed for most posts not part of the subscription blog. If you have a question or comment, Prime members can use the Prime Q&A.