Foot Correction series: Part 2 – Wedging and Part 3 – Shimming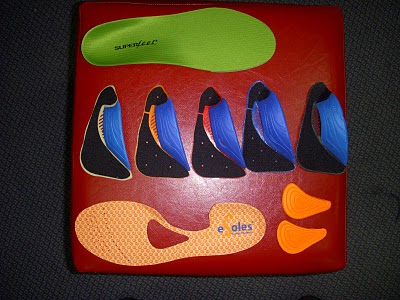 As I mentioned in the post Basic Premise I have developed a method of quantifying and restoring proprioceptive feedback from the feet.  Without going into the nuts and bolts of the method itself, the basic picture is this:
Hundreds of millions of sensory nerves in every muscle, tendon, ligament, joint, etc named proprioceptors produce something like 1.5 million times more information about the load being experienced, position in space and relationship to gravity of each part of the body than the Central Nervous System (CNS – brain and spine) can ever process in a given second.  All of this neural feedback gets through to the CNS but most of it doesn't 'register' and isn't paid much attention unless it stands out from the background 'noise'.  The situation is analogous to that of a late arrival at a large party.  The latecomer (CNS) can hear a lot of noise (proprioceptive feedback) but cannot clearly make out any individual conversation (signals from a particular body part) unless a particular speaker (part of the body) raises their voice (changes the quality of stimuli) above the 'noise' or the latecomer moves closer to (focuses consciously on) a particular speaker and is able to listen more closely despite the distraction of the 'background noise'.
Another analogy is this:  You put on your cycling jersey and you can feel it for how long?  Five seconds?  10 seconds?  Then you cease to feel it because the CNS does not have the processing capacity to constantly monitor the unchanging stimuli of the jersey 'feel' (while attending to other matters) and bring it to conscious attention unless the quality of stimuli changes(like someone tugging at your jersey) whereupon awareness is briefly drawn to that changed stimuli (jersey tug) before it drifts off to other matters.
This is the situation we find ourselves in when riding a bike.  The CNS knows the feet are there somewhere but doesn't necessarily know the fine detail of what they are doing because the signals from the feet are drowned out by the (metaphorical) chatter.  We are transferring whatever power we produce to the bike via the feet but the CNS does not have a precise awareness of what the feet are doing on the pedals for the great majority of the time, unless the rider consciously focuses on them.  This will work until attention drifts, which it always does.  I can demonstrate that the CNS is acutely aware of what the hips, knees and ankles are doing at all times on a bike, but the feet are akin to a proprioceptive black hole.  Does this prevent anyone from riding a bike?
Absolutely not.  But it does cause the rider to compensate for this lack of clarity of neural feedback.  Unfortunately, compensating doesn't solve the problem, it just increases our tendency to asymmetry because all of our patterns of compensation work by increasing our inherent tendency to favour one side over the other.  This in turn heightens the chance of incurring overuse injuries.  On a bike we need to be as functionally symmetrical as possible because we are locked into a largely fixed relationship with the positionally symmetrical bike.  There is less likelihood of injury and a pay off in performance if we are possessed of full proprioceptive clarity from the feet while pedaling, because neuromuscular coordination is closer to optimum and functional symmetry on the bike improves consequentially.
So what to do?
The answer is to change the quality of the stimuli from the feet so it can be 'heard'.  In other words to metaphorically raise the voice of a speaker at the party or to metaphorically tug the jersey as per the examples above.
Our aim is to have the feet 'heard' loudly and clearly ALL of the time without our necessarily being consciously aware of the process.  In general terms, there are two ways to achieve this:  Correct the alignment and support of the feet, OR to correct the alignment and support of the lumbar spine.  Off the bike, either will work, but on the bike there is only one choice:  to correctly align and support the feet (making a positive change to the quality of the stimuli from the feet) because it is near impossible to maintain ideal lumbar spine alignment and support while riding a UCI legal bike.  Doing this optimally will make sure that the CNS is constantly aware of the fine detail of what the feet are doing during every pedal stroke.
The foot is three interrelated complexes, forefoot, midfoot and rear foot.  All or any of these may need correction.  And correction of one part has an influence on the others.  I track this kind of stuff and find that a need for forefoot correction is not rare but not common either, whereas midfoot and rear foot correction is needed by something over 95% of the cycling population.  So what method(s) do I suggest?
A combination of arch support and canting of the foot is the answer.  How to determine the relative degree of each?
The method that I've developed allows for certainty, but I'm not going to disclose proprietary info here.  I will give general advice that will allow thoughtful fitters and cyclists to improve their current situation.
Firstly, start with arch support.  In terms of proprioceptive clarity, arch support is typically worth between 1 cleat or heel wedge and 3 cleat  or heel wedges; sometimes more, depending on how much arch drop or distortion occurs under load. So if cleat wedges do the job from a proprioceptive point of view, why bother with arch support at all?
Because lengthy experience working out a method to quantify proprioceptive feedback from the feet tells me that if cleat or heel wedges alone are used, the vast majority will lose the initial positive proprioceptive response over a time frame of days, weeks or months unless the arch is also supported and stimulated by that support..
How much arch support does a rider need?
Use this 3-point scale:  1 = not intrusive, 2 = mildly intrusive and 3 = very intrusive.  Cycling requires arch support of Level 2; mildly intrusive.  That is mildly intrusive when standing, not when cycling.  For the arch to be supported with foot in cycling shoes, there needs to be contact between the arch support and the arch of the foot.  For some people who are not used to this, it can initially feel like there is too much support, particularly at the rear of the arch just in front of the heel.  The test for this is that most people should cease to be aware of the arch support somewhere between 10 minutes and several rides after the introduction of arch support.  For instance, if you've ridden a couple of hundred kms over several rides and your arch support feels intrusive when riding, then you have over done it.
So mildly intrusive when standing in cycling shoes is the degree of arch support needed, providing that amount of arch support feels supportive on the bike after a week or two of regular riding.
It is unlikely that the insoles that came with your shoes will do the job, because the majority of cycling shoes have a woeful lack of arch support.  Specialized deserve a positive mention for at least offering different heights of arch support insole.  Nice try but their range of heights is too low (from a proprioceptive point of view) for anyone with moderately high or high arches.
Many cycling shoe manufacturers are slowly getting the idea that quality arch support is necessary, but their efforts are tentative to date, with no major shoe manufacturer offering a wide enough range of arch support heights to work ideally with the majority of riders.
Which brands of arch support insoles do I recommend?  Currently, three only.  Superfeet, eSoles Supportive and now G8 Performance.  I don't like the conformable, heat moldable, mass produced insoles because most riders do not get the molding process right and end up with too little or less commonly, too much arch support.  Superfeet are generic, a bit too generic, but work really well for those with low to low moderate arches (though not flat feet).  Again, if they feel 'mildly intrusive' when standing in them, they're fine.  If they feel 'not intrusive' there is not enough arch support from a proprioceptive point of view.  I don't recommend the Yellow Superfeet model which is SF's cycling shoe appropriate offering. It's okay but a pain to cut to shape.  I think the Green Superfeet is far superior in terms of heel control though it can take up too much vertical space inside the shoe for those with high insteps.  If you have low to low moderate arch and a Green Superfeet is too bulky, try the Black Superfeet option which is similar but has less volume.
If you have low to low moderate arch height but find that the two Superfeet options recommended above take up too much space in the shoe, or if you have moderate to high arches, a far better option is eSoles Supportive.  They're available in a wider range of sizes than Superfeet (36.5 to 49.5) and are sold in a kit with four modular arch support options of differing heights, plus two heights of metatarsal pads.  The arch supports and metatarsal pads velcro in and out of the base insole with ease. G8′s are worthy of mention as well. While their highest arch offering isn't as high as that of Esoles Supportives, they offer rearfoot support superior to Esoles and their arch inserts can be adjusted forward and back on the insoles.
As you can see from the pic at the top of this post there are actually five different heights of arch support available for eSoles Supportives.  Only four come in the pack.  From lowest to highest they are Orange, Red, Blue and Black.  eSoles previously deleted the higher Black option and replaced it with the Off White option for reasons that make no sense to me.  No sense, because while in percentage terms I don't use that many Blacks (10 -15%), it is still far more than the miniscule number of Off Whites that I do use. I made representations to eSoles, (and many others probably did too) and the Black arches are now restored as a standard kit item.
Don't fall into the trap of thinking that you will necessarily need the same height option of arch support for each foot.  It should feel the same on each side and for most, but by no means all people, this will mean the same colour.
So why support the arches at all?
95+% of people have arches that drop to varying degrees when applying load to the pedals.  For most the degree of arch drop is not a lot and is equivalent to 1 degree of deviation from optimal plane for the knee during the pedal down stroke.  For a minority it can be 2 degrees and for a small minority, 3 degrees. A lot of 'problem children' find their way here and I have seen up to 7 degrees.  Knees are more or less a hinge joint and don't like lateral or rotational loads.  If the arch drops during the power part of the pedal stroke then the knee potentially moves towards the centre line of the bike, the 'effective' length of the leg is shortened by the vertical distance that the arch drops and far, far too often, asymmetric patterns of compensation arise to work around this challenge to the riders position.  A small lateral or rotational load on the knee caused by a slightly dropping arch may not cause an injury problem for a cyclist only riding for two hours a week (approximately 10.200 extension / flexion cycles of the knee, assuming average cadence of 85 rpm) but can loom as a large problem if the rider is riding , say 20 hours (approximately 102,000 extension / flexion cycles of the knee ) per week.
Another reason to use arch support (and other methods of correction) in cycling shoes is this.  Pedaling a bike requires a precise and complex sequence of muscles firing in an appropriate order.  Despite what you might think, this process is not performed by the cerebellum but by the CPG (Central Pattern Generator) a bundle of neurons in the lumbar spine.  The cerebellum oversees the task but it is the CPG that performs the basic extensor on / flexor off and flexor on / extensor off firing sequence of the muscles of the legs.  The CPG responds to force feedback, from the feet, of which arch tension is a major component, making it likely that the greater the clarity of proprioceptive feedback from the feet, the better the chance that the CPG can dictate an optimal muscle firing sequence.
Once arch support is introduced and used for a period, further adaptation to its use can occur in some riders.  What this means is that if an arch support option feels like the desirable Level 2 when standing, but over time begins to feel that it has diminished to Level 1 on one or both feet, then it is advisable to experiment with a higher option.
I suggest using the lower of the two metatarsal pad options initially, but once the habituation phase of using arch support is completed, experiment with the higher option.  If it feels good, keep it in there. If you have obvious callousing or thickening of the skin on the sole of one or both feet immediately below 2nd, 3rd or 4th MTP joints (base knuckles of the toes), this suggests that they are dropped and can possibly cause discomfort from nerve compression while pedaling. If so,  use the higher metatarsal pad from the start as it will elevate and separate the MTP joints.
What if you are using the highest level of arch support, the black arch module, in your eSoles and it isn't enough to achieve the desirable Level 2 / Mildly Intrusive arch support?
Add a layer, or layers of gel cork bar tape as necessary under the base of the arch support module as shown in the pic below.
So, that's the simple approach to achieving the correct degree of arch support in cycling shoes.  The next two parts of this post will deal with Wedging and Shimming.
Have fun!
Postscript:  One of the Comments below relates to flat feet.  If you have true flat feet or near flat feet, again use Level 2 arch support.  Don't be concerned if you need one of the higher arch support options to achieve Level 2.  Arch support is all about how the rider perceived the level of support and is NOT about "low arch equals low arch support height".  It may do, it may not.
Foot Correction series: Part 2 – Wedging and Part 3 – Shimming
Note: Often, more specific answers to your questions can be found in the Comments below or in the eBooks section and FAQ page.

To learn more about bike fit products offered by Steve, click here.

Do you have a bike fit success story? Please go here to share.
Thank you for reading, return to the Blog page here or please comment below.